"Hi, my name is Lynn and I'm a food addict," I say with shameful conviction. I'm with a group of foodies and we're gathered in Millennium Park in downtown Peterborough. We here to admit our addiction to the pursuit of perfect food, to share our shame of applying unobtainable high standards on chefs and cooks alike and to offer each other support as we learn to be more reasonable and appreciative eaters. I have my doubts how this is going to work, but Donald Fraser of Farm to Table Culinary Tours has a 12-step program laid out for us and I'm willing to give it a try.

Step 1: We relaxed at The Silver Bean Café in the middle of Millennium Park and perched at the Otonabee Rivers edge. What a beautiful venue. Owners Michael and Andrea Vandererberg own this casual, seasonal café and tempt our little group with warm, chewy, uber-thick cookies. I take an oatmeal chocolate chip. Verdict? They're perfect comfort foods that reek of guilty pleasures with each chew.
Peterborough is home to a large factory that produces (among other edibles) Quaker Oaks cereals. Today is production day and as we walk by the air is full of cinnamon roasted apple aromas. Oh yum!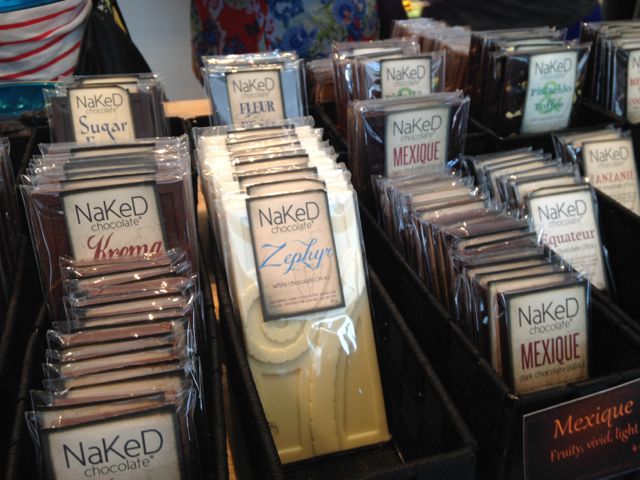 Step 2: Our next stop is NakeD Chocolate, a French and Belgium style chocolatier with sinfully, sweet chocolate aromas that permeate every inch of the little shop. Pastry chef Angela Roest and owner, second generation confectioner Warren Eley tempt us with anything our heart desires. With nooses pressed against the glass chocolate case that looks more like a jewellery store counter, no one can decide. I choose a chocolate caramel with sea salt. Verdict? Light caramel enrobed with pure, decadent chocolate is all brought to life brilliantly with the occasional spike of saltiness.

Step 3: We approach Sam's Place and as we walk by the outdoor tables to enter the restaurant we pass people happily chowing down on overloaded sandwiches. Layered between two pieces of fluffy bread are thick mounds of smoked meat. Sam smokes dozens of briskets a week from locally raised cows. She's hoping her Peterborough Smoked Meat sandwiches will someday rival the famous Montreal Smoked Meat sandwich. In the meantime, only the locals and any visitors who accidently wonder into her little diner get to enjoy this lip-smacking tribute to the lowly sandwich.
Most of these eateries we're visiting are within the downtown core in an area called the Café District. Funny thing, it was once called the appliance district but appliance stores began fading away at the same time as Peterborians began cultivating their culinary muscle. The beauty of Peterborough is the eclectic range of eateries, like none of them have competition because each of them are so different.

Step 4: The Electric City Bread Company is one of the last few places in Ontario where you can still find hand-rolled, French-style croissant. They have no laminator, all of the cold butter is hand rolled into the pastry by large muscled pastry chefs. One bite and the exterior explodes into miniscule shards of tissue thin pastry while inside, your teeth sink into the billowy, buttery dough. They're butter crazy here because the thick pieces of anemic shortbread are dense and uber-buttery. Verdict? Butter crazy to perfection and that sets this bakery apart from the rest.
Step 5: Planet Bakery, a casual, popular vegetarian cafe on Water Street. The food is simple and yummy, especially their Mocha Walnut Chocolate Chip Cookies. The Southern Fried Tofu Scramble is a great way to start a lazy Sunday off right. My favourite is the Grilled Portobello Kimchi Burger on the gluten-free bun. Definitely draws a younger crowd – or a crowd with a younger palate!

Step 6: Chasing the Cheese is the first of its kind in Peterborough, bringing a wide range of quality cheeses to those who didn't even know what they were missing. Owner, Julie Austin loves cheese and decided one day that her little kitchen was too small for her addiction, so she opened this little shop on Water Street. You'll find local Ontario and Quebec cheeses as well as some of her favourites from France. The rest? We'll I haven't tried them all yet, but just give me time.
Step 7: Artisan thin crust pizza doesn't get much better at The Night Kitchen on Hunter Street West. They make everything from scratch and use as much locally sourced ingredients as possible. The basil pesto is made with basil grown by a local farmer and the yummy goat feta is from Crosswind Farm. My favourite is the Bocce Spin. It's layers of rich marinara sauce, baby spinach, portabello mushroom, red onion, tomato, goat feta and mozzarella. Gotta love it when you're sinking your teeth into more toppings then crust.
Step 8: If you have a sweet tooth you'll want to check out Black Honey Bakery Café. Owner Lisa Dixon is a "dessert artist" creating eye-candy, delicious cakes. Have a slice and wash it down with a cup of Fair Trade coffee and tea. You can eat in the bright café or nestle into a sidewalk bistro table. You'll find them in the café district in downtown Peterborough.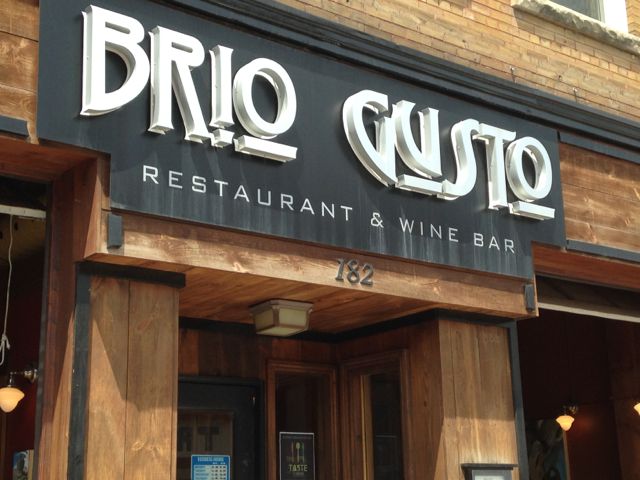 Step 9: Literally translated, Brio Gusto means fire and taste. Apparently, it reflects the method of culinary excellence this soft, casual eatery offers. It's all too much for me to figure out so let me just say if I had only one day to spend in Peterborough, this is where I'd go for their Brio Pork Boliche. The Chorizo stuffed bone-in pork loin is a cuban inspired dish slowly braised in tomato, pepper and onions with smokey chipotle peppers. The clean style of sophisticated, bright cuisine is delicious.
Step 10: Sometimes you just gotta-get a burger and the Apollo Grill on George Street has the best burgers in town. It's a retro designed burger joint where you can sink your teeth into a soft, eggy bun, crisp lettuce, juicy pickles and a succulent, beefy burger. Wash it all down with one of their thick French vanilla shakes.

Step 11: Two Dishes on Charlotte Street is the brainchild of two sisters who began catering, branched out into the weekend farmers' market and ended up with a small restaurant. Reserve in advance because the food is in high demand by locals as well as visitors who make a pilgrimage to dine at Two Dishes. They shop for there own food from the connections they made at the farmers' market, they prep and bake it all themselves and the results are delicious.

Step 12: It's a plant-based café, the Food Forest menu doesn't offer any meat, dairy or eggs. So what's good about it you say? OMG, try the Orange Tahini Pad Thai on raw zucchini noodles, the Toasted Mushroom Lentil Burger or the Green Goddess Smooth from the juice bar. Food Forest is more than a café, they have organic fair-trade coffee and tea for sale as well as super-foods and supplements. It makes sense that a café concerned about the environment insists on BYOC (bring your own containers) for all take-out orders – gotta love it!
If you're wondering if Fraser's 12-Step program for Food Addicts works the answer is a unanimous yes! Each of us eagerly devoured the samplings and ate up the talks of the eclectic eateries we were introduced to. Every owner, chef and culinary entrepreneur had refreshing dedication, a real purpose to their kitchens and palates that cultivate world-class food in the comfort of a small town.