It seems to me that whenever anything needs doing these days, the popular question of the day is "how". But in my opinion, we need to be asking "why". I mean, in everything we do, we should ask ourselves "why am I doing this?" Because if we asked ourselves "why" we are doing something, we may realise that some things are worth doing more than others.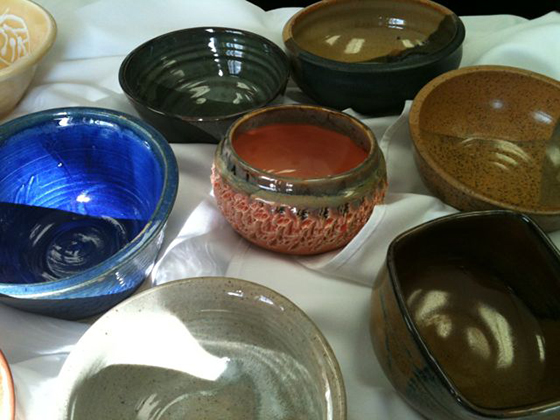 So what does all this have to do with soup? Well, Niagara potters made over 100 soup bowls so hungry soup lover could gather at the Four Points Sheraton Hotel in Thorold on Wednesday, March 26 to taste some pretty sensational soups made by chefs who were competing for the coveted Golden Ladle Award. The event is called Empty Bowls.
Mind you "great soup" would be a good enough reason for me to attend but there was another reason that took a back seat at this delicious event. Bethlehem Housing and Support Services. Bethlehem is a 27-unit apartment building that gives hope to men, women and children that find themselves with no other place to turn.
I can't imagine being desperate and destitute, but unfortunately almost 4,000 people in Niagara find themselves there. Bethlehem gives some of them a place to live and retraining so they can pull themselves up and go on to become contributing members of our community again. These people are our neighbours who need our help – that's the "why" that brought a lot of people out to bid on silent auction items, gamble on raffle tickets and enjoy bowl after bowl of delicious soup.
There was a chicken wing soup and a soup with candied pecans, some had slabs of beer bacon and others chunks of lobster, I loved the ones with an essence of cilantro and the spike of heat. The 11 soups were sensationally creative, all were different and yummy great.
I loved the Black Bean and Beer Bacon Soup with Crispy Tortilla Strips that Chef David Watt of The Garrison House prepared. The flavours were balanced and the texture crispy and delightful – yes a crispy soup!
Then Chef David Gibson of the Canadian Food and Wine Institute at Niagara College wowed us with his Roasted Parsnip and Leek Soup with Dragon's Breath Cream. It looked seductively tempting with a great garnish presentation that followed through with an amazingly flavourful soup.
You should have been there to try the Bell Pepper Ying Yang Soup with Cardamom Cracker made by Chef James Cuttriss of The Heat Is On Catering. It was spicy, balanced and oh, so delicious!
So who won? It was Chef Michael Price of White Oaks Resort for his Gayzley's Chicken Wing Soup.
For the price of a nice dinner out, the folks who decided on this event not only got an unlimited amount of gourmet soups and wine to sip and savour all night, but they also gave back to their community and helped our neighbours who are in need.