Wow, what a freakin fantastic market!! Toronto's Christmas Market opened last night in the Distillery District and I was there. Holy cow, was it fantastic! For the past 4 years my family and I have had a tradition of travelling to a different Christmas Market around the world.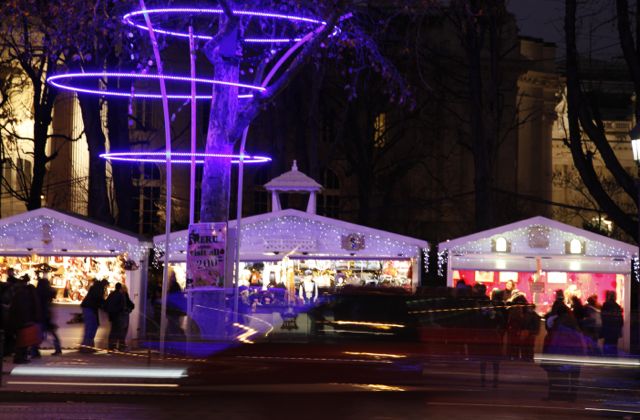 The Christmas Market in Paris blew us away. Beautifully decorated white wooden shacks lining both sides of the Champs Elysees flanked on one side by a giant Ferris Wheel and on the other by the Arc de Triomphe. The wooden shacks were filled with holiday foodstuffs and one-of-a-kind gifts. What's not to love? We'd walk the market every day with a steaming cup of hot cocoa in our hands (I'm not a fan of mulled wine!) and ate creamed mushrooms or Churros dipped in chocolate – yum.

The next year we went to Rome. The Christmas Market in Piazza Navona was full of wooden shacks and makeshift food trucks all loaded with Italian-style foods like nougat and porchetta sandwiches. Walking around was a vendor selling balloons in cartoon holiday images, hundreds of doll witches (Le Befana) screamed from almost every retailer and there were carnival games like shoot the ducks. Yes, as beautiful as the Italian Christmas Market was, it did have a bit of unnecessary carnival to it. But among the tacky was a breathless concert at a beautiful ancient church in the centre of the piazza and a real sense of European Christmas.

Last year was London, England. In Hyde Park the giant market was more like a carnival with loads of rides and games but in between there was roasting marshmallows over an open fire and feeding the ducks in the beautiful lake. The decorated wooden shacks were filled with gifts and foods. We'd walk around with a steaming cup of cocoa and Bailey's while others ate hot dogs overloaded with fried onions and cheese. It was wonderful.

Christmas Markets originated in Germany and I haven't gone there yet. This year it's Toronto and I have to say it is the best one yet. It's a true holiday feel. The shops are decorated beautifully and are overflowing with one-of-a-kind gifts, street food like turkey legs and miniature cinnamon donuts are intermingled with drink huts serving hot apple cider with a variety of spirits mixed in to keep you warm. The restaurant patios all have open fires and heaters to keep your fingers and ears from freezing and your nose from dripping.

That's the one thing I noticed that was different. Paris, Rome and London are nowhere near as freezing as Toronto. But with the shops and restaurants open, you can always duck into one of them to warm up – it's doable. The restaurants are open to serve full meals and nibbles and drinks. The wooden shacks line every corridor in the Distillery District and are full of food, drinks and gifts. Soulpepper Theatre has a running performance of A Christmas Carol, soft holiday music plays in the background and on the edge of the parking lot is a large Ferris wheel and merry-go-round for the kids. And yes, Santa is on duty every day.

By far the Toronto Christmas Market is the best one yet. It offers a wonderful holiday experience in the true spirit of Christmas. How lucky am Ito have it right in my own back yard!  Plan on joining me every weekend because if you're not, you're missing out on the best that Christmas has to offer.