I first met the stocky built, tattooed artist on the top of the John Hancock Building in Chicago. Pastry chef, Mindy Segal was peddling her cookies; mini morsels of heaven they were, mouthfuls of magic that beguiled everyone who popped them into their mouth. Crowds began to form and it wasn't long before I lost her attention.

But before I did, she walked me through every different cookie from the super rich, sugar coated brownie blobs that floated ever-so-lightly across my palette, to the eye-popping, uber fine Fluer de Sel and Halavah Cookies that delighted the psyche, Violette Snickerdoodles that were just plain addictive and the Strawberry Rhubarb Klatchke with the buttery croissant-like pastry that satisfied my craving for spring flavours.

My favourite were the Hot Fudge Milanos, no words can describe what happens when you bite down on them. They transformed into chocolaty, buttery silk that slithers across your tongue and down your throat with paralyzing lusciousness and electrifying euphoria. After 15 of these delicious tidbits there was no achy feeling in the pit of my stomach, just sunshine and delight radiating from within – ahhh, I could keep eating. Mindy Segal has real talent. She invited me to her restaurant, Mindy's Hot Chocolate – this just gets better!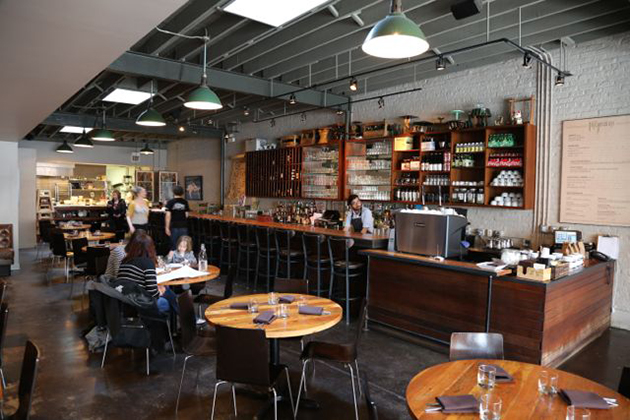 I made the pilgrimage to Hot Chocolate. Chicago is a city of neighbourhoods, each one different and worth the trip to explore. Hot Chocolate is in Bucktown but beware, some call it Wicker Park. I think the truth is that it's on the boarder of both. Either way it's a short walk from the Blue Line train and easy to find. I suppose I could have had the Porkbelly Rueben or the Lamb and Creama Kasa but what did I go for? Ok, I couldn't resist the hot chocolate menu! Yes, a menu like a food menu or wine list, Mindy has a hot chocolate menu with 7 different ways to enjoy a steamy cup of cocoa. After a long and agonizing conversation with the hot chocolate sommelier over the merits of which hot chocolate would be best on a warm but almost rainy spring day, he surprised me with a flight of all seven!! I love him!

If you live anywhere in North America, it's worth the pilgrimage to Mindy's Hot Chocolate in the Bucktown or Wicker Park neigbourhood of Chicago. I regret not having the Malted Milk dessert. It's chocolate malt and toffee almond brittle, frozen nougat, Graham cracker, shaved halavah, shaved bananas, whiskey marshmallow and milk caramel. If anyone goes and has this mind blowing dessert, would you take a picture for me?!! In exchange, I've described every hot chocolate on Mindy's menu for you.

MALTED VANILLA. French white chocolate, French milk chocolate and malted milk. Its dreamy froth tickles your senses and fills your mouth with warm, silky, malty vanilla. The softest chocolate drink on the menu making it the drink you want when you feel like toying with chocolate.
MEDIUM. Milk chocolate with a touch of dark chocolate and a hint of caramel. The serious mix of chocolates is tamed by the equally serious caramel. Like a temper tantrum of my favourite flavours, bold punches of both partner exquisitely for an exciting hit of warmth flowing from heaven.
MEXICAN. 2/3 dark chocolate, 1/3 milk, fresh cinnamon and cayenne. A smooth, soul warming chocolate with a hit of spice and a luscious texture that flows memories of Christmas through my psyche. A drink for when you're feeling punchy – oh, yum!
BLACK & TAN. 1/3 hot fudge, 2/3 medium chocolate. Dive right in with your eyes as the sexy layers of dark chocolate and black liquid fudge tease. Use a tiny espresso spoon to stir them around for a thick, velvety power punch of chocolate! This one is so chocolately big it hits like a 2 x 4. But sit back, close your eyes and feel it float pleasure to every inch of your body.


DARK. 72% French chocolate. The darkest of them all. Ultra smooth, uber rich, flavours of cocoa and vanilla play together and make fun of the serious chocolate hit. Sophisticated in style, robust in texture, erotic in character, perfection in hot chocolate!
CHAI. ½ Chai, ¼ Mexican and 1/4 dark chocolate. Smooth and rich, like a feather-weight velvety scarf slithering down your throat carrying exotic spices of cinnamon and cardamom with the flamboyant character of chai tea. This is the drink to have when you're feeling on top of the world!
HALF & HALF. ½ espresso, ½ dark chocolate. In Italy this would be called a Bicherin and it's a traditional drink that dates back centuries – for good reason. Kudos for Hot Chocolate for resurrecting the drink with a perfect balance of both dense coffee and serious black chocolate. When you can't decide on coffee or hot chocolate, this will set you straight!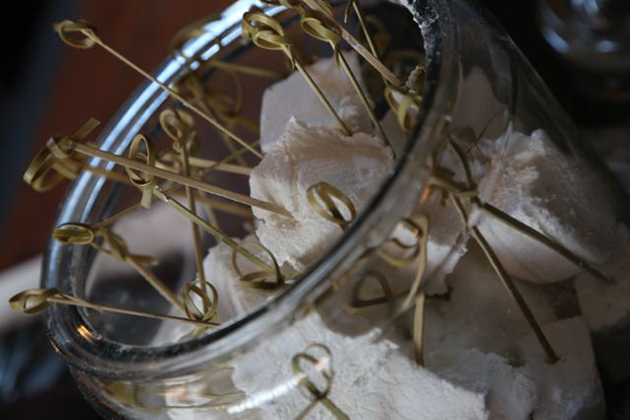 PS. The house-made marshmallows are OMG MOUTH MAGIC!!!! (OMGMM – my new acronym) Mindy has once again worked her magic by crafting a marshmallow that isn't gummy, sticky but meringue-light and heavenly! Woah!