Like an architect, back yard barbecuists and beef lovers take burger building very seriously. The best burgers start with a good foundation upon which textural support and flavour finishes all come together for a guaranteed burst of palate extravaganza. Here's how it works.
THE FOUNDATION
If there's one tip that needs to be hammered home more than any other, it's that a great burger starts with good quality beef – and not all beef is alike.
Both Alberta and Ontario beef are excellent quality but they're fed and raised differently so the flavours are different. I find Alberta beef sweeter while Ontario is generally beefier. Try them both for yourself, side by side, taste the difference and begin your burger building with a good foundation.
Beyond the flavour profile, good beef is also a matter of how well it cooks up. Dry aged beef is best and you'll find it from a good butcher. Aged meat means mature meat and maturing means to improve. But like wine, only the best improve with age.
If you instantly assume you'll pay more for ground beef from a butcher, you'd be wrong. No matter where you go, ground beef is all approximately the same price. So it makes sense to go the extra mile to get better quality meat, you'll taste the difference.
So important is the beef at The Works on James St in St Catharines, that Foreman, Jenna Ciccarelli buys directly from an Ontario farm. "Our beef is freshly pressed every day and our meat comes from Ledbetter Farm near Brantford," says Jenna of their premium beef that's 100% hormone free and grain fed. "Nothing is added – it's just beef."
Served slightly pink, the fresh burgers are grilled over open flame for beautiful charring. "As the edges crisp up I can taste the flavours coming alive", says Jenna. The burgers at the works are grilled with a thermometer inserted into the heart of the burger. Once cooked, the burger is topped and slid into the oven for a 2-minute finishing before it's layered onto the bun with more fresh toppings
There are a few chefs in Niagara obsessed with building the best burger. Some add magic ingredients that make their burgers better. Chef Rob Berry of the Bleu Turtle Restaurant in St. Catharines starts out with good quality beef and mixes it with a fist-full of steel-cut oats. "Oats soak up all the great juices and keeps all the flavour in", says chef Berry of his popular burger topped with truffled mayo, melted brie and caramelized onions. Oh, yum!
TEXTURAL SUPPORT
Like being hit over the head with a 2 x 4, most people are astonished to hear that the bun is as important as the beef. With every bite of a burger there is actually more bun in your mouth than beef, so it makes sense you want to strive for the perfect bun-to-beef ratio.
At Romby's Tavern in St. Catharines, each burger stacks two, half-pound patties on a special Ace Bakery bun. Baked in Romby's kitchen and toasted for added flavour, "the bun takes the burger from awesome to outstanding!" says burger meister, Mike Wilson. Wilson is insanely passionate about building lip-smacking, melt-in-your-mouth burgers and has a huge cult following to support his self-proclaimed "best burgers in town".
Depending on your burger, whether it's uber thick or thin, if there's one patty or two, if you boost your burger with umami rich toppings or find the classic crispy lettuce and tomato to be perfect, the bun needs special consideration because it's the most dominant textural contrast to the beef.
Buns come in a wide range of styles, textures and flavours from soft brioche or egg bun to thin sandwich buns in multi-grain or vegetable flavour. In between there is an entire range of buns from crisp crust and dense innards to soft on the outside and fluffy on the inside. Take the leap from boring spongy burger buns and try them all!
Chef Elbert Wiersma of Elements Restaurant in Niagara Falls uses a softer, richer brioche bun to nail the bun-to-beef ratio. It works brilliantly with the layered beef, Portobello mushroom, roasted red pepper, ermite blue cheese burger. While you may think the brioche is a rather delicate bun to pair with such heafty weighted ingredients, the whole burger experience comes off tasting way beyond one's greatest burger dreams.
FLAVOUR FINISHES
While I've always said that commercial ketchup and relish goes well with frozen burger patties, when you're building an amazing burger, throw out the commercial condiments and look for good quality, artisan made instead.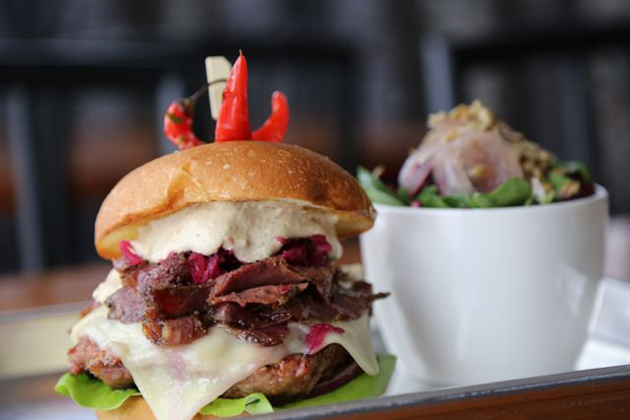 The newest player on the burger block is Chef Colin Goodine of The Chop House Burger Bar on Martindale Road in St. Catharines. Goodine is often said to be so insane about his burgers that he makes all of his condiments from scratch! Trusting no one, he makes a killer chipotle ketchup that goes on anything you want, a rich gherkin-caper mayo for his Rueben Burger and a zesty Tzatziki mayo for the lamb burgers. All of his burgers have a different mayo from roasted garlic mayo to black peppercorn, but also "I'm a dipper and love side dipping sauces," says Goodine – try the Serrano really, really hot dipping sauce and the Forty Creek whisky dipping sauce to dip your burger, they're as insane as Goodine.
Balancing flavours is an art that balances the burger. The options range from thick slices of house-smoked, maple bacon rashers to glistening spoonfulls of succulent bacon jam; melted chunks of tangy, old cheddar to crumbled, piquant stilton pocketed inside the ground meat; eye-popping black peppercorn aioli to smooth, spirited, bourbon barbecue sauce; char grilled, meaty Portobello mushroom caps to lusciously sweet, caramelized onions.
The best way to know what works for you is to catch some of the burger passion from these obsessed chefs and remember. When you're building a better burger you want to aim to eat a burger that is juicy, rich and gooey with a bit of crunch and a blast of flavour. From the first bite, it should unleash a geyser of flavour onto the palate and a wave of feel-good endorphins into the bloodstream. If you can accomplish that, you're an insanely talented burger maker with most likely, a disturbingly large crowd of friends!
This story first appeared in the Spring Issue of Today Niagara Magazine. Lynn Ogryzlo is a food, wine and travel writer, international award winning author and regular contributor to REV Publications. She can be reached for questions or comments at www.lynnogryzlo.com.