Ah, summer is the best time to eat because everything is so fresh, but if you blink for just one second the great flavours will be gone. Such is the case with cherries – I blinked and now they're gone. But not zucchini!
If you're lucky enough to have a neighbour like my neighbor Elise who grows zucchini, you know that zucchini growers love to share. Zucchini is the best known, and most joked about of the squash varieties and it is also notorious as being a prolific producer, making those who grow them a very generous breed.
Sometimes I think this is the only reason people grow zucchini. I must be right because I can find plenty of people who grow zucchini, but almost no one who has a special recipe for cooking with it.
I have a cousin Rose in Toronto who throws chunks of zucchini in a pot and just adds water, garlic and onions – it makes a brilliant soup. And thanks to the French, we can use it to make ratatouille. I have a killer recipe for a grilled autumn salad with feta cheese. It has chunks of eggplant, red pepper, mushrooms and yes, green and yellow zucchini.
But Zucchini can be very unforgiving. It has a high water content so sometimes it's wise to treat it like eggplant by salting it to draw out the moisture. Just yesterday I grated a giant zucchini, salted it and hung it in cheesecloth to drain. It took hours, every once in a while I'd walk by and give it a thorough squeeze to help it along. Finally, the ball of hanging zucchini was almost half the original size and I decided it was time to use it.
I found a recipe on the internet that swore I wouldn't be able to tell the difference between crab cakes and this amazing recipe for zucchini cakes, so I just had to make them. I used the dry grated zucchini and the rest of the ingredients called for in the recipe. The mixture was so loose and wet, I thought it best to bake them instead of sauté them as the recipe instructed. Well, that was a bad move and they came out bland, pasty and well, still soggy – I hate untested internet recipes!
Then there were the zucchini crepes with melted brie that never came together. Unfortunately the delicate crepe batter was no match for the zucchini and it's ability to release more water when it's cooking.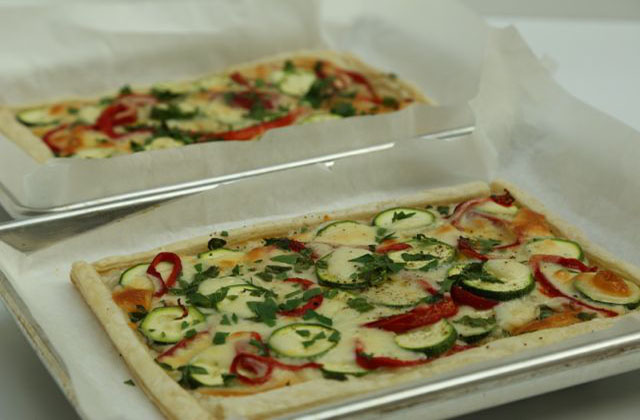 So when it comes to zucchini, I think it's best to stick to the tried and true. Who hasn't had success with zucchini bread? Next to banana bread, everyone loves zucchini bread with a generous smear of creamy butter! Some people add a generous handful of nuts to the batter and others add chocolate chips and I've even seen a chocolate zucchini loaves. I don't know about that, to me there's just something wrong when you mix chocolate with zucchini together in one mouthful.
My experimental zucchini recipes may have been disasters but I like zucchini and I'm not ready to give up on it just yet. I don't grow zucchini so I have none to share zucchini with but I do share tried and tested zucchini recipes like this one. It's too bad Elise dropped of an entire basket of zucchini before she left for holidays because; zucchini growers and zucchini bakers are both generous breeds.
Zucchini and Cheese Tart
I think this tart works because it's fresh zucchini sliced thin.
1 -397 g package puff pastry
2 roasted red peppers, drained and sliced thin
100 g mozzarella cheese, thinly sliced
100 g asiago cheese, thinly sliced
4 tablespoons freshly grated Romano cheese
2 small zucchini sliced thin
drizzle of olive oil
handful of fresh flat leaf parsley
salt and pepper to taste
Preheat oven to 350F (160C). Divide the pastry in half and roll each into a rectangle. Place each on a piece of parchment paper on a baking sheet. Set aside.
Cover each pastry with peppers, cheeses and zucchini. Drizzle with a small amount of olive and season well. Sprinkle with a bit of parsley but save most for adding fresh when tart is cooked. Bake in the oven for 15 to 20 minutes or until pastry and cheese begins to brown. Remove from oven and add remaining fresh parsley. Slice and serve – yum! Makes 2 tarts, serving 4.