If you're not a fan of airport hotels then you haven't been to Richmond, British Columbia. The Vancouver airport was once just outside the beautiful city of Vancouver when an Asian community began to grow up around it.
Today driving from the airport, take the road away from Vancouver (Road #3) into Richmond and you'll drive into another world, an Asian one. Block after block is filled with Asian restaurants, services, spas, food shops, and retail stores. In fact, there are over 800 restaurants, 400 of which are Asian and it's here you'll find the best Chinese food outside China.
I'm at the Sheraton Airport Hotel and this puts me smack in the middle of everything I want to explore from China, Singapore, Korea, Vietnam and almost every other Asian country. It's all here in typical Asian high-density style that excites anyone wanting to explore the unknown.
There is no way one could pick a restaurant over another here so I relied on a good food-writing friend who lives in Vancouver. Excited about another excuse to eat, Carolyn Heller and hubby Alan came out to eat.
Food Street in Richmond was named that because of the concentration of restaurants on this little 2-block street than any other part of the city. Hard to believe when you drive around, but there are so many restaurants crammed into this little strip of real estate that you need go no where else if you're here for a week!
We ate at The Big Chef (1060-8580 Alexandra Rd, Richmond, British Columbia) on Food Street and left it to Carolyn and hubby to order the meal. With Chinese beer to wash it down, here is the amazing meal!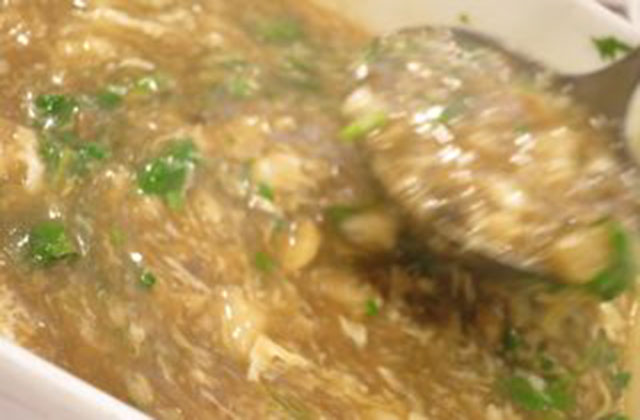 Auntie Song's Fish Soup: This soup hales from the province of Zhejiang near Shanghai, this southern cuisine is one of the eight famous regional cuisines of China. It is a fine cuisine with delicate flavours, refreshing tastes and varying cooking techniques. This soup was a bit cloying but the amazingly delicate flavours won me over immediately – fantastic soup!
Steamed Assorted Preserved Egg with Dried Scallops ($14.80) This feather light bowl of custard submerged in mushroomy broth actually covers slices of preserved black eggs. The silky smooth textures and delicate flavours are like a refined symphony on the palate at the same time as being a whopping mouthful of flavours. Wow, I could eat this every day of the year!
Stir Fried Scallop and Chicken with Chilli Peppers: Spicy, elegant and delicious. We ate this with some steamed rice.
Pea Tips with Garlic. I think these were a bit overcooked, but hey – what do I know it was the first time I'd had this dish here.
So forget about you're preconceived notions that airport hotels are outside the heart of a new destination. Richmond is both – convenient to the airport and in the heart of everything you'll want to experience. It's the best of all worlds!
Check our more about Richmond, BC here and recommend a restaurant for me tonight!