Take a look at wedding cakes on the web and you'll see just how far we've come from traditional slabs of iced fruitcake. That's not to say the evolution of wedding cakes has always gone in the right direction. I found a wedding cake made into a full-sized (5-foot!), likeness of the bride; another was a 36-inch in diameter hamburger wedding cake complete with fondant replicated lettuce, onion, pickles and special sauce.
I found a cake where the bride figurine on top is holding a fishing rod and the hook is caught in the pants of the groom and the worst of all (if these aren't bad enough), a three-tiered wedding cake where the bride figurine on top has pushed the groom off the edge and he's resting in a pool of blood at the base of the cake – what the heck?
Ok, so besides some peoples bizarre ways to reflect their love for each other (and I'm sure the dead groom represents some sort of twisted love in the nicest way), wedding cakes were meant to bring good luck to all of the attending guests and of course, the couple. Thank goodness I found none of these bizarre examples in Ontario.
The symbolism of wedding cakes started out in Ancient Rome where unsweetened barley bread was used as the wedding food and the groom would break the piece of bread in half over his brides head symbolizing breaking of the bride's virginity and the subsequent dominance of the groom over her. For any feminists reading this, you're probably wondering if this story gets any better; I promise it does.
Wedding cakes are the centerpiece of a wedding ceremony and are shrouded in history, symbolism, mystery, personality and etiquette. It's the day to honour a love you share and commit to a lifetime together. Designing your wedding cake is no cakewalk.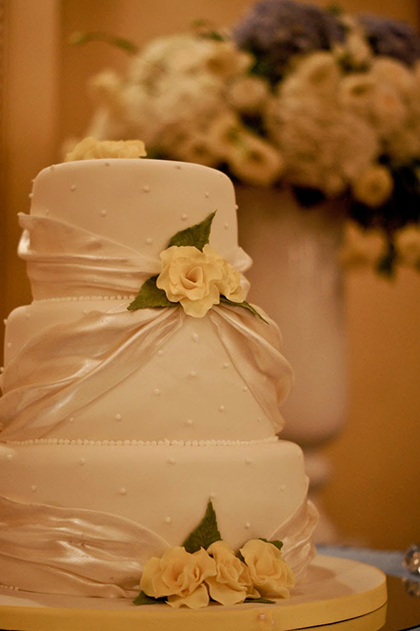 Like the pieces that all fit together to make a perfect puzzle, artist and pastry chef Eda Marion of Vineyard Sweets in Niagara-on-the-Lake takes many details into account when she designs personalized wedding cakes. "I get to know the bride and groom, I look at the wedding dress, the style and graphics of the invitation, the floral choices and the theme colours to design a one-of-a-kind wedding cake."
We really have come a long way from breaking barley bread over a bride's head. Barley bread evolved into fruitcake popularized by Queen Victoria that was replaced by the drier pound cakes of the early 1900's (that no one liked to eat). Unfortunately, the image of dry wedding cakes lingers today. But Eda and other modern wedding cake designers assure me that todays modern cakes are light, moist, delicious and come in an endless variety of flavours that everyone will enjoy eating. Eda's most popular cake flavours are coconut key lime and French vanilla. "The only time I do fruitcake is when Scottish grandmothers insist on it," she laughs.
In the early 1700's baker Thomas Rich made a cake in the likeness of St Bride's Church, on Fleet Street in London, England to impress his bride. It was the very first tiered cake and quickly replaced the single slab wedding cake design from that moment on. It was originally thought that the Grooms Cake was stacked overtop of the Brides Cake making one out of the two. Typically smaller than the Brides Cake the Grooms cake can be made from anything from fruitcake to the groom's favourite flavour.
The most popular options on the outside of wedding cakes include buttercream, fondant, cream cheese and chocolate. These ingredients can be spread, shaped, moulded and formed into various textures, flowers, ribbons, icons and memorabilia. In addition almost anything can be added on the outside from little statues of the bride and groom to ribbon, jewelry and small articles of a personal nature.
In between ultra light layers of delicious cake can be Swiss meringue, buttercream or cream cheese. With Eda's art and fashion design background, she impressively nails the perfect wedding cake every time.
It's no surprise that the most romantic of all wedding cakes come out of the honeymoon capital, Niagara Falls. Italian pastry chef, Giovanni del Priore of Criveller Cakes & Pastries is the Michelangelo of wedding cakes. His signature cake is the most breathtakingly romantic vision with tissue paper thin sheets of crinkled white chocolate that hover over layers of moist, flavourful cake like floating peonies in full bloom.
At first glance, most think a Criveller wedding cake is made from real tissue paper and are delighted to discover it's really delicious chocolate. If you're wondering if white chocolate is even chocolate at all, Giovanni explains that milk chocolate contains 38% cocoa butter and white chocolate has 29%. This explains why Criveller cakes are not pure white but a soft, romantic white. "People who claim to not like white chocolate taste it and when it evaporates on their tongue, they're sold." Criveller's white wedding cake represents the traditional purity of the wedding ceremony and eating it is nothing less than a sensual act.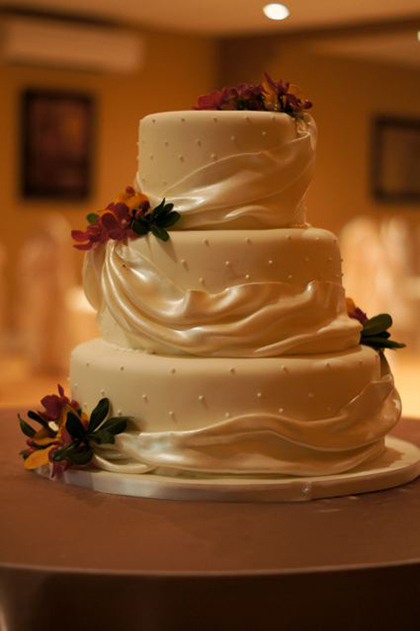 Similar to Eda's long list of available cake flavours, Criveller cakes come in over 25 different flavours from fresh berry to tiramisu. They're moist on the inside with feathered chocolate on the outside. Giovanni explains the cost of a feathered chocolate wedding cake is about 30% less than a cake wrapped in fondant.
Wedding cakes don't come cheap, some are priced by the slice, ranging from $5.00 to $18.00 per slice while others are priced by cake and they can start at $250 and go as high as $1,500. Giovanni just finished a cake for the Prince of Dubai that sold for a whopping $2,800! It was a 4-tire wedding cake. The tips on the feathered white chocolate were painted with edible gold leaf. Besides the obvious "ability to pay" scenarios, most wedding cakes are one of the best values of any wedding ceremony considering the time it takes to create (often days and weeks) and the importance of the cake at the event.
Like baker Thomas Rich changing the design of wedding cakes in the early 1700's, Giovanni is revolutionizing the design of modern day wedding cakes with his one-of-a-kind cake. They're so unique, he's working with a TV production company on a television show. "Stay tuned," says Giovanni.
Since I started this story with some bizarre wedding cake examples, I would be remiss if I didn't finish with an equally trivial ending. On the radar of some brides is the TurDuckIn (a chicken stuffed into a duck stuffed into a turkey) of wedding cakes. Just imagine a pie baked inside a cake. Now stack three of these on top of each other and ice appropriately. The name reflects the flavour of the pies and cakes used to create the tour de force. The one I found was called a PumAppleIce Cake (pumpkin, apple, spice).
The sky is the limit when it comes to wedding cake designs meaning yes, you can have your cake and eat it too! Stack them high, decorate them elegantly or make them ooze with class. Wedding cakes are the icon of the love shared by newly wed couples from that day and forevermore.
---
Types of Icing

Buttercream
This is one of the most popular cake frostings, and it is made up of butter, powdered sugar and flavourings. Some recipes call for shortening, some for both shortening and butter. This icing offers the best value per slice due to the ingredients used. The texture is smooth and creamy (hence the name), but is not super sweet. It is easy to slice and can be made into numerous decorations for the cake. It does melt quickly though, so keep that in mind for hot climate weddings.

Meringue
This type of icing holds well in heat, making it perfect for hot climate weddings. It is comprised of egg whites, sugar and flavouring. This can add a nostalgic feel to any cake.

Marzipan
This is a nutty flavoured icing, most often used to frost fruitcakes. It is often chosen as a flavour for filling or to use to make shapes to decorate the cake with. It's not ideal for icing an entire cake with though, as it is tricky to roll out a whole sheet of it without it ripping.

Fondant
This is a smooth sheet of sugar paste and it can be flavoured, as well as tinted any colour. It gives a beautiful, clean finish to any cake. Some people don't really enjoy the taste and texture of it though (it can be a bit chewy), so a good idea is to have a layer of buttercream underneath so guests can still enjoy the cake if they don't like the flavour of the fondant. This is the most popular icing choice for wedding cakes.

Ganache
It sounds fancy, but it is essentially just chocolate melted with heavy cream. It makes a lovely shiny glaze on cakes, and tastes quite delicious. It does tend to melt quite easily though, and the colour of it cannot be altered.
---
This story first ran in Brides Magazine.
Lynn Ogryzlo is a food, wine and travel writer, international award winning author and regular contributor to REV Publications. She can be reached here for questions or comments.