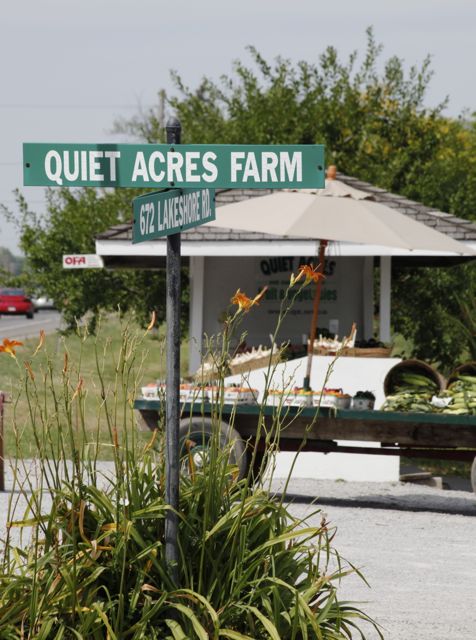 Just yesterday I was out at Quiet Acres Farm on Lakeshore Road in Niagara-on-the-Lake and their giant sorting tables were covered with strawberries – it was a sea of red! Big, plump, juicy, deep red berries glistening in the sun. They select each berry, check for dirt, bruises and size and fill the pint containers that go into the masters. Who can resist buying an entire master of these strawberries?
I got them home and tumbled them into a sink of cold water for a quick bath, then laid them out on a kitchen towel to dry. I took off the tops, sliced them in half and began filling a bowl. In the refrigerator I had a container of simple syrup made with equal amounts of sugar and honey and a few cups of water. I boil this to melt the sugar and cooled it down. When the bowl had enough strawberries for an after dinner snack, I poured some simple syrup over them and let them sit to blend the flavours.
Honey is the perfect ingredient to bring out the flavour of strawberries, giving them an extra punch of strawberry flavour. Straight honey drizzled right over top of strawberries doesn't work as well, but added to a simple syrup it brings out the strawberry flavour much more than sugar can.
Of course these tips for a strawberry explosion only work with Niagara strawberries. Ordinary berries don't have enough flavour to enhance and you'll be sorely disappointed so it pays to know your local food.
Berries can be used individually as a garnish for desserts, on cereals or suspended in ice cubes for fancy drinks. I can always count on pleasing guests when I serve a bowl of Niagara strawberries topped off with fresh whipped cream, spiked with a little bit of Fragola (strawberry wine). Fresh strawberries are great in a salad with a sweet strawberry, balsamic vinaigrette dressing.
You can add thin slices of strawberry to grilled brie sandwiches and or use to top a baked brie appetizer with strawberry-rhubarb compote laced with ginger and black pepper. Strawberries and cream cheese are a classic combination that gets even better with goat cheese. I once had a strawberry and goat cheese pie with chopped pecans on top – yum!
The weirdest use of strawberries has to be in spaghetti; ripe tomatoes, aged balsamic vinegar and lots of freshly ground black pepper. The strawberries are sautéed in oil before being added to the spaghetti.
Enjoy this strawberry season and remember this growing season will be fast – don't let it get away from you.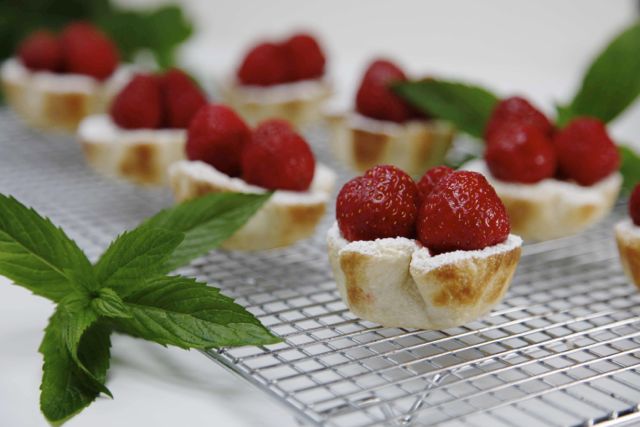 Strawberry Tarts with Chardonnay Curd
Makes 12 tarts.
1 1/4 cups (310 mL) all-purpose flour
3 tablespoons (45 mL) sugar
1/2 teaspoon (2.5 mL) salt
6 tablespoons (90 mL) cold unsalted butter, cubed
2 tablespoons (30 mL) cold shortening
1/4 cup (60 mL) ice water
1/3 cup (80 mL) chardonnay curd from Kurtz Orchards
1 pint whole strawberries, hulled
mint leaves for garnish
Combine the flour, sugar, and salt in a food processor. Pulse to combine. Add the butter and shortening and pulse about 10 times, or until the butter is in the size of peas. Add the ice water and process until the dough comes together. Dump on a well-floured board and form into a disk. Wrap in plastic and chill for at least 30 minutes.
Meanwhile, preheat the oven to 375F (190C).
Roll out the dough and cut into 3-inch circles. Fit into small muffin tins, prick the bottoms with a fork and bake for 10 minutes. Check to make sure the crust is not puffing up, prick again with a fork and bake for another 11 to 15 minutes until lightly browned. Set aside to cool.
Before serving, fill the tart shells with chardonnay curd, top with whole berries and garnish with sprigs of mint.