If you've ever wondered what Ontario's dairy country looks like, I think you'll be pleasantly surprised. Woodstock is the big city of the region and in its heart sits a monument to a cow named Springbank Snow Countess. Springbank was dairy cow with the admirable accomplishment of being the county's largest butterfat producer (weighing in at 9062 pounds of butterfat and 207,505 pounds of milk during her lifetime). During Springbank's time, Oxford was home to at least 92 cheese factories.
Today, Oxford County boasts the provinces only Cheese Trail. One of the stops is the Elm Hurst Inn and Country Spa. Peruse the menu and discover Executive Chef Michael Davies has an exuberant passion for cheese. You can start your journey along the Cheese Trail by sampling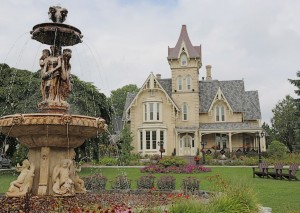 Michael's all-local cheese platter or enjoy one of his cheesy features like his delicious cheddar soup. Then venture out to Gunn's Hill Artisan Cheese for delicious Swiss-style cheeses that will quickly become a favourite; then over to the Bright Cheese House for some amazing cheddar. There are many more cheesy stops that make for a full and yummy weekend.
Each year Oxfordlicious hosts The Oxford Garden Party, this year the date is July 9th and it's held at the beautiful Elm Hurst Inn & Country Spa. Plan on attending for a spectacular dinner that reflects the farmers, their rich and diverse produce and a chefs prowess with local food.
When you're driving along the Cheese Trail, drive slowly and cautiously because chances are you'll come across a few small black covered wagons pulled by horses. Know you're in Mennonite country and be prepared to explore at a different pace dictated by this laid-back culture. Mennonite farming is centered around cooperative farming, creating a strong farm and country ambience that visitors love. It's a reminder of how pure and good fresh food from the farm can be.
C
hefs like Eric Boyar of Six Thirty Nine Restaurant can easily get caught up in the region's agricultural offerings. He uses a base of local food inspired from the farms around him to form his menus. Make reservations to sit at the chef's table, a beautiful wooden bar that overlooks all the action in the kitchen and offers a front row seat to the wafting aromas – yum! Study the kitchen well, chances are you'll catch a glimpse of Eric's bike. He rides to the market and returns with his bike laden with produce. When I dined there he had just returned from the market and everything was fresh, including the trout from nearby
Goossens Trout Farm. It's not unusual to find curious farmers dining here just to see what Eric is creating with their produce.
When planning a trip to Oxford, immerse yourself into the country life by staying at Bon Air Bed and Breakfast. A little known fact is that owners, Gerald and Danielle Kennedy have transformed the top of their silo into an amazing observatory; ask them for some sky-time and experience farm country hospitality with a 'sky's the limit' promise.
For a little pampering along the Cheese Trail, stay at the Elm Hurst Inn and Country Spa. The grounds are spectacular, their story beguiling, the mansion captivating and the spa treatments spell binding.
I love driving through country roads filled with people making a living off the land. It's not unusual to find yourself behind a wagon filled with hay, large trucks busy with farm work kicking up clouds of dust and animals wandering the meadows and hills. Make sure you bring a camera because you never know when farm and country life will inspire a few beautiful photos.
Oxford County has a local food web directory, agriculture and culinary map, farmers' markets and lots of markets on farms that offer fresh food in season. It's a delicious region to let your palate do the wandering.
For more information, just click
Pictorial Food Tour of Oxford County