Ok, funny story – or not. It was a long, warm, exhausting day in Paris. Spent the morning and early part of the afternoon at the Bastille farmers' market. We finished the market with a dozen oysters freshly shucked for the bargain price of 13 Euros. It was a beautiful experience with the yelling of the market vendors around us, the salty smells of sea air around the oyster booth and the most beautiful part of the experience is when the shucker took a moment to pour some white wine into our empty shells so we could sip on wine from the oyster shell – I think this experience alone is worth the trip to Paris!
But Paris is not always wonderful. It may be the most beautiful city in the world but it's also the city that is most likely to rip you off. If you've read my posts since Jon and I arrived in Paris a week ago, you will have heard some of my rants about being overcharged in the city of already expensive food. But tonight, this one takes the cake.
It was dinnertime and the night air was getting a bit chilly. Jon and I tucked into a little outdoor bistro table at Royal Turenne restaurant on rue de Turenne. It was the lovely, iconic scene and we ordered wine. I was in the mood for one of my hot water and lemon drinks. I would have had tea but noticed on the menu it was 4.80 Euros. A simple cup of hot water and tea bag for the equivalent to $6.60 CDN. A bit steep so I decided my lemon water was the way to go. My logic was that house water was free so what if they charge me a little for boiling it, that won't be much. And would they charge me .20 Euros for the lemon? Sure, after all it is on the menu.
It was a lovely dinner of escargot and a salad. The bill came and sure enough there was a .20 Euro charge for the lemon. I laughed, but there was also a 5.20 Euro charge for tea. That's $7.15 CDN!!!! – no, with the lemon it's $7.42!!! All of a sudden I'm not laughing any more. When I questioned it, they insisted on the charge but to be nice, they brought me a tea bag to take home.
We paid the bill and left. Half way back to our apartment I stopped dead in my tracks – HEY, tea wasn't 5.20 Euros on the menu, it was 4.80 Euros. Is that called a double rip off!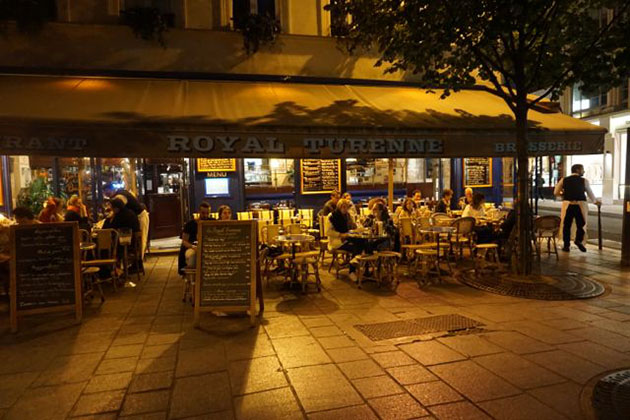 Ok, so at the end of the day it was less than $10 CDN I was raped for but what happens is it casts a shadow over the good memories you've accumulated during the day. Being taken advantage of in such an obvious way is demeaning, humiliating and undignified. All you can talk about is the constant overcharging and as much as you want to shake the feeling that everyone is grabbing at your wallet you can't, for if you do, they'll do it again!
Not every restaurant, bakery and shop in Paris is like this but the Royal Turenne is. Paris may be the most beautiful city in the world and it usually welcomes me with open arms, but this time it was waiting to leave me feeling degraded and dishonoured. It appears Paris is a city of many things – good and bad.