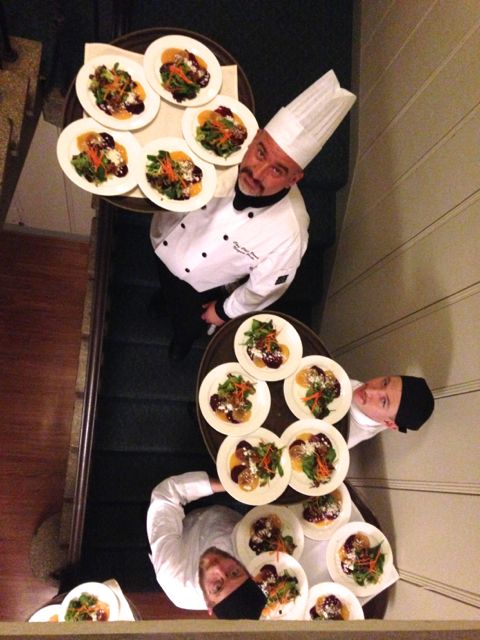 Last night at the historic Queenston Heights Restaurant twelve-apprentice chefs strutted their stuff to pamper the palates of an eager and hungry crowd at the annual Apprentice Cooks & Chefs Showcase Dinner. Wow they didn't disappoint. The apprentice chefs prepare an exquisite dinner many seasoned chefs couldn't pull off.
But I couldn't help but think where else does a graduating class have to make their own celebratory dinner and not even get to eat it?!! I'm not complaining – heck no – they cooked and I got to eat! It was nothing less than spectacular and full of flavour surprises. Among the appetizers was a pulled pork in a finger cup with Forty Creek Whiskey Barbecue Sauce – freakin amazing!!
Moving right along to the lobster pumpkin risotto holding a slab of thick, flaky perch; a flavour profile to blow your mind! Next surprise was a luscious, creamy, sexy smoked tomato bisque bedded with Inniskillin pinot noir reserve. It was a heavenly sipping duo paired to perfection.
I love potatoes but the leek and Yukon gold potato gratin made our eyes roll back into our heads – yes, the entire table! I want the recipe! No better yet, a cooking class on perfecting potatoes! The apprentice chefs also kill it with their double smoked bacon and woodland mushroom glaze – reduction, concentration, complexity, luxurious – like an arrow to the heart! I loved it and reductions are so difficult to prepare at home, I'm going to have to follow the twelve new chefs in the hopes of that heavenly flavour luxuriating across my palate again.
The salad was a plate of sweet beets dusted with goats cheese and brightened up on a cold evening with citrus vinaigrette, a lovely spirit lifting course.
Apprentice chefs at Niagara Parks cook in all Parks restaurants from Queenston Heights  to Edgewaters, Legends on the Niagara and Elements on the Falls. Dining there means you too can have a peak at the burgeoning skills of our next generations of aspiring chefs.
The exquisite dinner was all finished off with little nibbles of sweet bites. My favourite was a chocolate tulip of maple mousse. If all that weren't enough to satisfy us, we were given Amarula cream with chocolately truffles. It's become my new, sweet, winter flavour combination – maybe I'll spill some Amarula cream into a mug of steaming hot chocolate! After all Christmas is just around the corner and this combination will make it special and more importantly, the flavours will inspire memories of another fabulous meal come and gone. Plan on being there next year with me! @NiagaraParks, #ApprenticeDinner