I was standing on St Patrick's Quay in the town of Cork, Ireland trying to figure out where I would find the best pub for dinner when a man burst out of the store in front of me. We were of equal height, his thick hair was grey and curly and his chin a little too bristly to have been shaved that day. He stopped dead in his tracks and asked if he could be of assistance (the Irish are so friendly). His monologue of fine Irish pubs went on a mile a minute but I stopped him at fish and chips.

That's what I was in the mood for, a fine plate of Irish fish and chips. After all this is an island and the fish is incredibly fresh. The best in the city was just around the corner at a little place called The Fish Wife. It's the blue building next to the sushi place and just down the street from where I was staying. "Tell them John the hairdresser sent you," he said.
So I made my way to The Fish Wife. I walked through the door into a tiny space with four barstools along the wall – all were occupied. Caroline, who I assume is the fish wife, told us to order and if we wanted to eat indoors, we go to The Cork Arms across the street and if we wanted to eat outdoors, we go to the other pub, also across the street.

So I placed my order for hake and chips and walked across the busy three-lane street to The Cork Arms and ordered an Irish (hard) cider. Sure enough, Caroline came in with a box of hake and chips with tartar sauce and mushy peas. The plastic cutlery was wrapped in torn rolls of rough paper towels and she told me if I wanted salt or malt vinegar, it was behind the bar.

I squeezed a lemon slice over my lightly battered giant piece of hake. Hake is a whitefish of the region, it's a thick as haddock with a meatier texture and just as flaky and juicy; it's really delicious. The chips were roughly chopped thick bits of potatoes, fried crisp. Irish potatoes seem to be sweeter than Canadian ones. When fried, they're crispier which makes me think there really is a bit more sweetness to them that crisps on the outer edges when fried. They're incredibly addictive at I ate them all.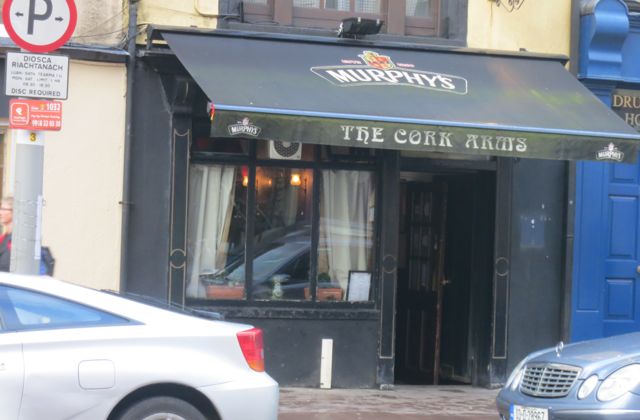 I went behind the bar to find an old container of salt, a very used bottle of malt vinegar and the all too familiar bottle of Heinz ketchup. I was good to go! After my feast of hake, chips and yes, I ate my mushy peas, I returned the salt and vinegar. I put my empty fish and chip box on the bar and asked if this is where I leave it? "No, no dear, there's a rubbish bin just down the street," said the bartender. So I left with my empty box and deposited it in the rubbish bin five stores down.
What a hoot. Traveling offers so many varied cultural experiences from John the friendly hairdresser to Caroline the fish wife at the quirky fish and chip shack who serves you at any restaurant you want to go to. It increases our tolerance for differences and fills our lives with new and delicious experiences. Traveling is enriching and I'm on the road again.