Feel the love
What's not to love; thick caramel, luscious vanilla, ripe pear, eggy French toast and sassy brioche carried across a muscular body boosted with intense alcohol. Caught your attention? You're not alone! I've just fallen in love with Kentucky bourbon.
A member of the whisky family, bourbon is the sweetest of all whiskies with the yummiest of flavours that have seduced many women into falling in love with this male dominated drink. In fact, Kentucky's first female master distiller, Marianne Barns will soon open a brand new artisan distillery (unnamed at time of printing) and is head of the Kentucky Bourbon Women's Association.
In a state that has more bourbon barrels than people, Kentucky produces 95% of the world's bourbon and driving a new renaissance in bourbon drinking are the premium, small batch and single barrel brands the likes of Bullit and Blanton.
The best way to try the bourbon's of Kentucky is to drive the Kentucky Bourbon Trail. The map looks like the Napa Valley of bourbon distillers with trails(s) that go from Louisville to Lexington with most destinations centred around Bardstown. Bardstown, named the most beautiful small town in America is also the Bourbon Capital of the World. Within a 20 mile radius of Bardstown is where most of Kentucky's bourbon is produced. It's the perfect home base to start your sipping experience. Each distillery offers bourbon tastings and/or tours with enough education to make you a budding bourbon enthusiast in no time.
With a recipe as simple as three ingredients, what makes Kentucky bourbon special is the quality of and combination of water, grain and special strain of yeast, or 'the mother'.
Making whisky takes a lot of water and Kentucky sits on a giant limestone aquifer that makes the water high in magnesium and calcium and low in iron and sulfur. This unique balance of minerals produces the perfect flavour for the world's best Bourbon. A large reservoir of this magical water sits behind the Willett Distillery in Bardstown and my first stop on the Kentucky Bourbon Trail.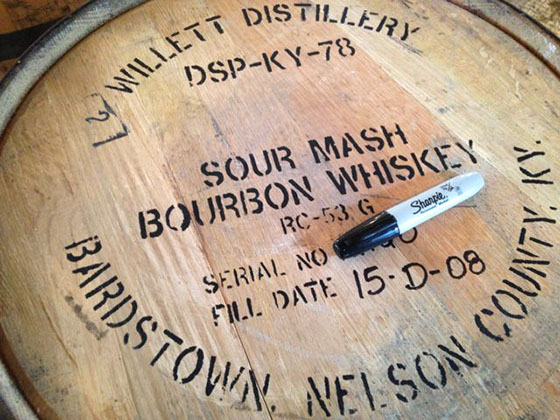 Willett produces only 18 to 20 barrels of quality bourbon per day, small in comparison to Jack Beam or Wild Turkey that would produce up to a thousand barrels a day. On the second floor of the distilling facilities are seven giant, 100,000 gallon fermentation tanks, all full and all at varying levels of frothiness, radiating heat and emitting a sour, yeasty bread aroma more reminiscent of beer than bourbon.
Lead distiller, Terry Ballard hands me a glass of rich, dark honey gold liquid smelling of butter, caramel corn and cooked cream. I take a small sip and the flavours of dulce de leche and fresh brioche fill my mouth and last for what seems like forever. Then, there it is, the bourbon love, that hot burning feeling in the middle of your chest. This sip is the Willett Pot Still Reserve and the bottle actually looks like the old brass pot still in the production facilities. It's yummy.
Just like different grains give bread a different flavour, so do grains give bourbon its character. According to bourbon law, Kentucky bourbon must be made with a minimum of 51 percent corn, with varying amounts of rye, wheat and malt. It is the combination of these grains that determines a bourbons eventual style.
I discovered a delicious example of a "high rye" bourbon at Barton Distillers, also in Bardstown. The Small Batch 1792 bourbon has a unique flavour of heavily coated caramel corn dusted with fresh cracked black pepper. Rye seems to give bourbon a spicier character but not overwhelming to what I love best about bourbon, the bottom weight of eggy caramel flavours.
Ed, our host at Barton Distillers picks up an eye dropper and dips it into a glass of water. He then transfers two drops into a glass of bourbon. "Now taste it," he says. The miniscule amount of water simply transforms the knock-your-socks-off bourbon into a more sophisticated drink that pleases slowly, intently and longingly. More to the point, it doesn't change the flavour, it only opens up the bourbon to become more sophisticated, refined and polished – the perfect Southern gentleman.
The bourbon tasting at Barton's ended with a sip of Kentucky's only creamed bourbon. Fitting beautifully into the popular creamed whisky trend, Ed pours a small amount for each of us. Just as I had anticipated, it creamed across our palate like a velvet scarf, tickling our senses with luxuriousness while the liquid chocolate and caramel nature of the bourbon mate, sending our eyes rolling into the back of our heads – oh, yum!
The unique production technique that sets bourbon apart from other whiskies is the law that restricts bourbon aging to only new oak barrels. Yes, it's an expensive proposition, but when the toasty flavours of the new char from the burnt barrel mixes with the honey-like sap filled staves, the bourbon flavours begin to take on a complexity like none other.
Just so you know, Barton has found a delicious way to squeeze more use out of their bourbon barrels. They make a bourbon barrel aged Madagascar pure vanilla extract. Wow, does it ever elevate a pecan pie experience! One other thing you should know about Barton's chocolate creamed bourbon, it's blended in Canada. Yes, it is trucked to Montreal where the bourbon is blended with fresh Quebec cream. Who would have thought? Unfortunately, it's only available at the Barton Distillery as is their vanilla extract.
Neat is not the only way to pleasure in Kentucky bourbon. Every year the Kentucky Derby has a contest for the most creative bourbon cocktail. In 2014, the winner was the Old Talbot Tavern in Bardstown and the winning drink this year was A Sidecar Named Desire. It's a chilled, fruity drink that lets the butterscotch notes of the bourbon shine.
My last stop on the Kentucky Bourbon Trail was the Evan Williams Distillery. Inside the downtown Lexington building is a reproduction of Louisville's Whisky Row (1890). Prior to prohibition, there were 83 whisky related businesses all within a 10-block radius of the current Evan Williams building and the very first bourbon distiller to open on Whisky Row after prohibition. Today Even Williams is both an artisanal distillery and an elaborate reproduction of Whisky Row. The facilities are less Disney and more Universal, less cute and more realistic, this true-to-form reproduction of the original street showcases Kentucky's whisky heritage and the legacy of Evan Williams, Kentucky's first commercial distiller.
Kentucky is also one of the most exciting culinary destinations and mixing bourbon with food is not so much an art as a spirited fascination. Kentucky native and founder of Wild Thyme Cooking School, Allison Davis just can't get enough of the bourbon flavours in her warm weather dishes and she's good at it too. The day I met her, she drizzled the perfect amount of bourbon in a Bloody Mary shooter, soaked a pork loin in bourbon, laced the sour cream with the brown stuff to smear on the white cheddar muffins (OMG!), splashed some in the mashed, sweet potatoes and spilled even more into the bananas foster bread pudding. Wow, Kentucky is heaven for bourbon lovers like me.
Sidecar Named Desire
1.5 oz Kentucky Bourbon
1.5 oz Strawberry Simple Syrup
1.5 oz Apple Cider
.5 oz Lemon Juice
.5 oz Cointreau
Turbinado Sugared Rum
Garnish with a Fresh Strawberry
Lynn Ogryzlo is a food, wine and travel writer, international award winning author and regular contributor to REV Publications. She can be reached for questions or comments at www.lynnogryzlo.ca.