I love sauerkraut and this is the time of year I start thinking of roasting a beautifully smoked ham hock and nestling it in a crock full of luscious sauerkraut. It's cold outside and this is the perfect way to get you feeling warm.
Sauerkraut is fermented shredded cabbage. Sound delicious? Ok, perhaps not really but here's how it works. Pack shredded cabbage into a mason jar and add salt. The salt will draw out the cabbage juices that work as its own brine and it begins fermenting the sugars in the cabbage. This new home brew take a few weeks and in the end you have crunchy, sour cabbage to layer on your sandwiches, eat with sausages or sauté with clams.

Yes, you hear me right, sautéed with clams! Just last night I went to Dish Café and Cooking School on Dupont Street. It was an evening of celebrating the culinary side of Philadelphia. For the occasion we had celebrities from Philadelphia; celebrity chef John Criottman of Noord Restaurant and food writer Drew Lazor.
The two paired well as they talked of Philly's culinary scene and the dish of the evening. Criottman was making a dish of clams and surkal (Norwegian sauerkraut). "I bought everything a the St. Lawrence Market", he boasted proudly "it's a great place, I love it!."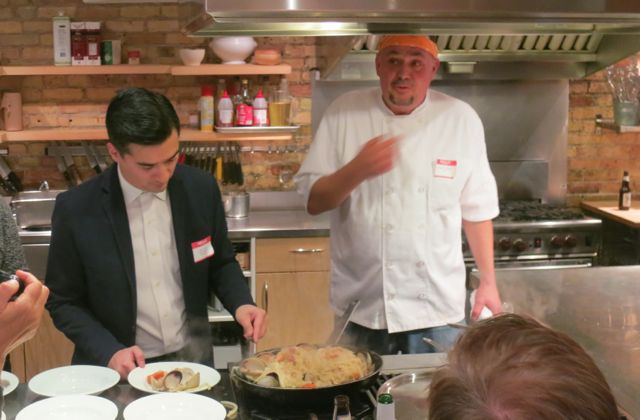 As the aromas of warming sauerkraut filled the air, Drew talked about Philadelphia. South of New York City and north of Washington, DC, Philadelphia is rich in history, cobblestone streets, It's the mural capital of the U.S.A. (3,000 murals) and home to more than 200 BYOB (Bring Your Own Bootle) restaurants. It has food tours, the oldest open air market in the U.S., a large Italian community (hence the movie Rocky) and is home to the Philly Cheesesteak.
Apparently the Philly Cheesesteak sandwich was inspired by one of Pat Olivieri's customers. A hot dog vendor, Pat was challenged to make something different for one of his regulars. He looked around his little cart. He had a steak that he sliced thinly, a few onions and some cheese. The new sandwich was a hit and to everyone's surprise, it took off to become the city's greatest culinary icon.
Spitting and sputtering of a skillet brings everyone's attention back to chef Criottman. Beside the giant sauté pan overflowing with sauerkraut, Chef Criottman melts thick slices of butter in a large skillet. Then he put handfuls of glistening clams into the frothing butter and shook it vigorously. He put the lid on and conversation turned to the BYOB culture in Philly.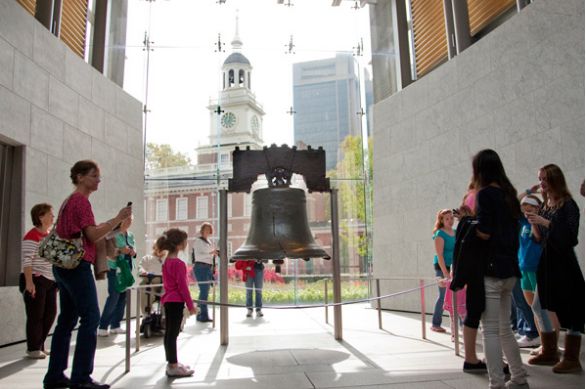 Inspired by complicated and bureaucratic liquor licensing regulations, there are now over 200 BYOB restaurants in Philadelphia and the numbers are growing. And get this, none of them charge corkage fees. BYOB's must change the face of a dining experience. In order to know which wine you want to sip, you'd have to know your meal. Do you peruse menus on line? Do menus have wine suggestions? What about eating what you're in the mood for? Are their no sommeliers?
The chef begins to talk about clams and surkal, the name of the Nordic dish he's preparing as he mounds sauerkraut on top of the clams that are now wide open. The sauerkraut is made with smoky ham hock and the sour briney liquid mix with the clam juices and butter. The lid goes back on until it's all warmed through. Then dishes of clams and surkal are ladled into bowls and we all enjoy. It is really delicious.
So will Clams and Surkal become as big a hit as the Philly Cheesesteak Sandwich? Probably not, but it's good enough to inspire me to want to eat my way through Philadelphia. Like Chef says, "when life gives you cabbage, you make sauerkraut!"
Photo of Philadelphia's Liberty Bell courtesy of www.visitphilly.com