There is no sugar coating it, the best is simply gluttonous. Burgers built fabulously superior with sensual flavours and contrasting textures are erotically self-pleasuring and addictively exhilarating.
Chef Collin Goodine, The Chop House Burger Bar
These burgers immediately consumed by sight arouse over eagerness culminating in huge – no humongous bites overflowing ones mouth with burger madness – much more than one can possible chew. Then the moment of pause; the teeth begin their exercise of moving apart, together, apart, together, apart, together in the hope that some burger will macerate and make room for air to move the aromas up to the olfactory senses where the ultimately pleasuring take place. But like down stuffed into a pillow, there is no space, no air to move the food around and in the end, the giant swallow of huge bits of burger slither down the throat – ughhhh.
Thankful that you haven't choked, the over eagerness leads to more burger stuffing. A graceful dining experience it is not, but it is a hell of a lot of fun!
Never had a burger experience like this? Then I can safely say you haven't had a great burger. Put aside the sea of flat patties on sponge-like buns smeared with ketchup, roll up your sleeves and get set to dive in for a burger experience you can have – yes, anytime you want and here's how!
Go to Nonna's Kitchen and U Need A Pita on Martindale Road in St. Catharines – yes, that's two businesses in one. What you don't know is that Chef Collin Goodine (formerly of Ravine Vineyards Restaurant and Riverbend Inn) of Goodine Catering runs his catering business from Nonna's Kitchen. So Stefan Archuticz, co-founder of U Need A Pita and Frank Del Priore, owner of Nonna's Kitchen are good friends of Collin's and when three foodies get together over food, one thing leads to another and great things are born. In this case it is, The Chop House Burger Bar.
Renovations will start soon and finish end of February. In the meantime, Chop House Burgers are flying out of the kitchen!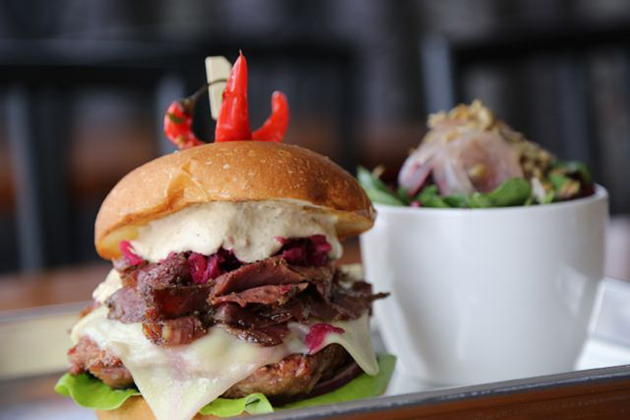 I had the mile-high Rueben with shaved, house made pastrami on a juicy beef burger with a double helping of swiss cheese and a mountain of chop house sauerkraut. Totally bigger than my mouth, the bun and innards squish just enough if you position your lower teeth under the bun and squeeze the burger under the upper bite. It just fits thanks to the yummy caper mayo that creams the burger together.
I think Goodine is insane about his burgers and he even makes all of his condiments from scratch! Trusting no one, he makes a killer chipotle ketchup that goes on anything you want, a rich gherkin-caper mayo for his Rueben Burger and a zesty Tzatziki mayo for the lamb burgers. All of his burgers have a different mayo from roasted garlic mayo to black peppercorn, but also "I'm a dipper and love side dipping sauces," says Goodine – try the Serrano really, really hot dipping sauce and the Forty Creek whisky dipping sauce to dip your burger, they're as insane as Goodine.
If you're feeling romantic, try the 50/50 burger. If you've ever been to Paris and order a Croque Madam you know it's the most luscious grilled ham and cheese sandwich topped with cheezy bachamel and a perfectly fried egg. The sandwich luxuriates with earthy cheese, a buttery warm egg and light sexy flavours that play on the palate. Collin's 50/50 is a super thick angus burger laced with ground bacon with a double helping of Canadian cheddar, thick strips of house smoked bacon and one perfectly fried sunny side up egg – oh yum. The entire flavour experience is creamed together with luscious avocado mayo and house made chipotle ketchup.
Collin's family will tell you his burgers are good, but he's mostly called upon for his fries. Don't know how, but they're soft, sweet and salty and addictively delicious. From fine dining chef to upscale caterer and now the man who has proven himself in all genres of food settles into what he loves best – redefining how we eat burgers. Get there now!
The Chop House Burger Bar
Executive Chef Collin Goodine
100 Martindale Road
St. Catharines
905-688-1114