It was the combination of sugar and caffeinated tea that gave the working poor of the 19th century England they're afternoon boost. Add to that some simple food and it fortified those who had a more physically demanding occupation than anyone does today.
Afternoon tea was not always as dull as necessity dictated. On the other side of town Afternoon Tea was being served to the aristocracy in a manner that defined elegant decadence.
Afternoon Tea is served in a three-tiered plate, each layer representing a different course. Starting from the bottom is the first course of miniature sandwiches, the middle layer is for the traditional scones and the top is for the finest of finger pastries.
Culinary Historian and avid tea aficionado Carole Berlove of Niagara-on-the-Lake creates period themed teas. Her latest was a Downton Abbey Tea. Guests came in period 1920 English dress complete with hats. Tea service, table setting and room ambience creating dramatic vignettes that took guests back in time for an amazing look into another world.
The event came complete with calling cards and Carson the butler to announced each guest as they arrived. "In cold weather afternoon teas would start with a warm soup and in hot weather it would be champagne," explains Carole as the maid serves everyone warm broccoli soup garnished with a drop of crème fraiche in miniature ornate tulip shaped glasses balancing on a little scalloped saucers covered with doilies.
We laid beautiful hand-embroidered antique linen napkins on our lap as tea is poured. Carole has picked a fine Darjeeling Tea for the event. "Cucumber sandwiches are the aristocratic sandwich of the tea table," says Carole as the three-tiered plate is set in front of us. It holds beautifully sculpted finger sandwiches, some with curls of "Mrs. Crawley's salmon" on top. For fans of Downton Abbey, you'll know exactly what that is and if you're not a fan, Carole says, "start watching."
The middle plate shows off Carole's famous white chocolate, walnut and apricot scones with a few rich butter scones for variety. On the table are silver rimmed toy serving bowls with jam, clotted cream or lemon curd waiting to be spread over the scones by antique silver butter knives.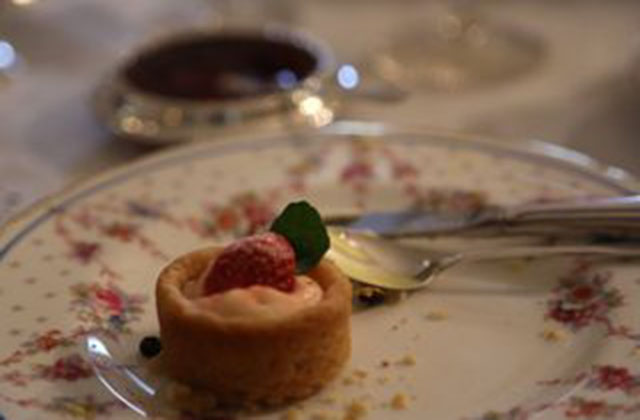 The top plate cradles tiny little period pastries made by Carole herself. Tiny little bites of feather light sweetness including sexy, thimble-sized tartlets full of luscious raspberry cream.
The perfect end to the decadent experience was Carole's signature double chocolate mousse served in a miniature etched crystal cups that hovered elegantly over an ornate sterling silver base with accompanying little silver spoons – how decadent was this experience!
At the end of the afternoon, I put on my granny boots, my street-length coat and with hat on head, I walked away feeling a little like Mrs. Crawley as she leaves the Abbey after afternoon tea.
Carole has arranged Tea with Monet and Black and White teas in the past with the same amount of elegant perfection. Each one is only available through word-of-mouth – pity. If you want to contact Carole, contact me and I'll connect you.