The Niagara Parks is loaded with authentic natural, historical and cultural experiences, but on the Feast On The Parkway Culinary Crawl I learned that culinary prowess is just as natural to the Parks as a hiker is to the Bruce Trail.
Here are some highlights of their five restaurants that are worthy of a trip to try.
Queenston Heights Restaurant, Chef Bill Greenan made the House-Made Gnocchi Carbonara, Double-Smoked Ontario Bacon, Hamilton Cremini Mushrooms, Baby Arugula in Pecorino Romano Cream served with Chateau des Charmes Gamay Noir.
Whirlpool Restaurant, Chef Tim Vanderlaar made the Spicy Butternut Squash Bisque and Spinach Salad with Dried Cranberries, Toasted Sunflower Seeds, Sweet Onion VQA Riesling Mandarin Vinaigrette and Nosey Goat Cheese Crostini served with Hernder Riesling.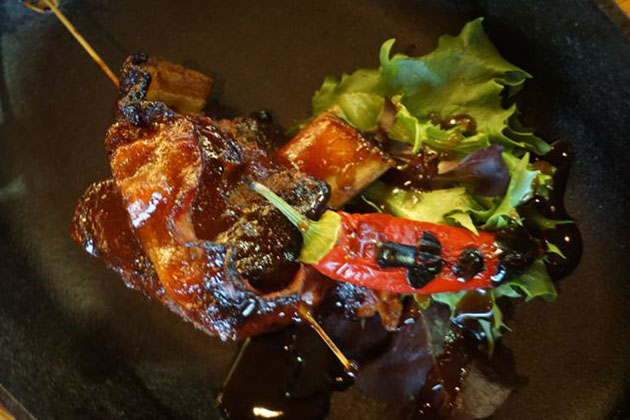 Legends on the Niagara Restaurant, Chef Chris Brown made the Braised Beef Short Ribs Wrapped in Bacon, Mixed Sledger's Greens and Balsamic Glaze served with Peller Estate Cabernet Franc.
Edgewater at Queen Victoria Place Restaurant, Chef Sidney Krick made the Pepper-Berry Rubbed Northern Rainbow Trout, Curried Seven Grain Salad and Cilantro Yogurt Drizzle served with Malivoire Lady Bug Rose.
Elements on the Falls Restaurant, Chef Elbert Wiersema made the Grilled Muscovy Ducks on Shoal Lake Wild Rice, Pingue Capicola Crisp and Jordan Sweet Cherry Glaze served with Inniskillin Niagara Series Pinot Noir.
Sweet Endings
Poached Bartlet Pear in Cabernet Franc, Maple Mousse Cream and Glen's Honey Tuile Crisp made by Niagara Parks Pastry Chefs, David Thai and Hening Sun.