It's been a while since I've been on social media. Not that I have anything against it really, I've just been living a life in the big city of Toronto. Where I live I'm 3 city blocks away from Sugar Beach and the park along the water called Chorus Quay. From here I can walk the entire waterfront – and I have, many times. I'm a 6-block walk east along The Esplanade, past fountains and gardens to The Distillery District.
To the north I walk 6 blocks to Young Dundas Square and the Eaton Centre and a further 2 more blocks to Nathan Phillips Square. To the west, I'm just 1 block from the St Lawrence Market. I'm surrounded by small brown-stone historic buildings including the Flat Iron Building, parks like Bursey Park and the new dog fountain (beautiful – you've got to see it!), restaurants that spill out onto sidewalks and every imaginable business, entertainment venue and store you can think of. I want for nothing!
So life in Toronto has been different from Niagara-on-the-Lake. While I miss the beautiful, lush, green landscapes and the closer connection to the earth in Niagara, I find I'm drawn to the life that exists in a big city and the availability of everything – on foot! Yes, I haven't driven a car since I moved to Toronto except to come back to visit Niagara. I think that's what I'm most in love with is the walking!
So I take my work to the beach or a park of which there are many, I shop for groceries at the various markets and grocery stores that surround me (6 of them to choose from!), both of my banks are within a block of each other, I no longer have a wine cellar because we're surrounded by three LCBO stores including the amazing head office store (Cooper St), I no longer have an overly abundant spice rack because there is a Bulk Barn across the street, there are a few live theatre venues in my neighbourhood or I can walk 15 minutes to the Canadian Opera Company or Roy Thompson Hall. There's even a movie theatre I can see from my living room window and the library is in the adjoining building so I've joined their amazing book club.
There are so many choices and opportunities in Toronto that it makes me think I can do things I never thought were possible. For example, I've just put my projects on hold for a year while I take a full-time course in holistic nutrition. That's right, I'm going back to school.
Why? You ask?  Well, I've been trying to write my next book. Of course it will be another book about local food but I want this one to explain why local food is the most nutritious and healthy food available. In addition, I've been asked to deliver cooking classes to people who want to become healthy (or healthier) and to learn the basics of cooking to make it easier, quicker and more enjoyable in their busy lifestyles. But to write my book or even think of helping others, I need to know more. And since I've always believed in preventative health and using food as a way to stay healthy, I've chosen holistic nutrition over an allopathic occupation, such as dietitian.
It's funny as I think back over my career as a food writer. I've always had a strong desire to connect people to farmers and the food that grows in Niagara; to show them a better way – a better way to eat, a healthier way. All of my books focus on this as did my newspaper column, tv show, magazine stories and local food organization (Niagara Culinary Trail). I wanted to help people eat better. But I'm not sure if I ever helped many, I think it was more entertainment than anything else. But now I'm given an opportunity to really help others and I'm so glad I'm in Toronto where there is the opportunity to learn environmental medicine and holistic nutrition.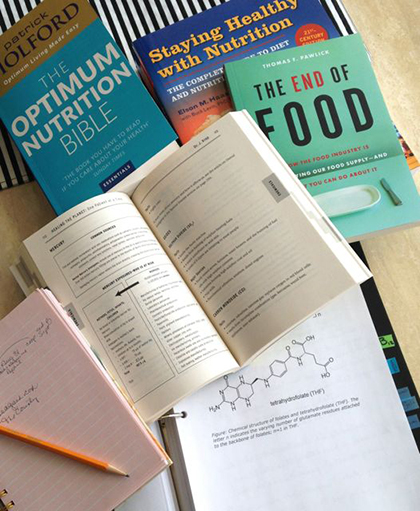 So I'm going back to school. I can't promise to be more active on social media, but I might from time to time, feel compelled to share some healthy information or resources with everyone. Likewise, feel free to reach out to me at any time. To give you a little look into my new direction in food, watch the Netflix movie, Forks Over Knives. No, it's not a movie about a celebrity chef. It's a story about choosing to focus on healthy food (that you pick up with your fork) over eating a bad diet and ending up under a surgeon's knife. And it will be the focus of my next book.