If you live in Niagara, you know about Commisso's, the best grocer of the region. A few times a year, they have product tastings. The store will be filled with balloons and at the end of a balloon in another tasting. The tastings could be or free-trade chocolate, organic popcorn, or health products. It becomes a tasty learning experience and a chance to ask some questions of some experts that are traditionally not there.
The fun part is you go around, taste, talk and get a passport signed. A completely signed passport enters you into a draw. Each taster offers up a great prize that you have a chance to win – and I won!
I won a huge popcorn bowl full of bags of Angie's BOOMCHICKAPOP popcorn. There were lots of flavours like White Cheddar, Caramel, Sweet & Spicy, Lightly Sweet Popcorn and more. The popcorn in made with non-GMO corn and nothing but ingredients you'll love. Take for example the Lightly Sweet Popcorn is made with popcorn, fair trade organic cane sugar, sunflower oil and sea salt – good stuff. It contains zero trans fats, cholesterol free, made with whole grain and is certified gluten free. Look for yourself www.boomchickapop.com. That was Friday when I picked up my prize.
It was Saturday when it happened.
Ontario was hit with a snowstorm. Schools were closed, people stayed home from work and we all bunkered down in front of our fireplaces to keep warm and enjoy the new, clean blanket of snow. Mostly we all watched that movie we have been trying to get to, or download a TV series from Netflicks to while away the time.
It's perfect popcorn time, and I just happened to have a gourmet supply waiting for the perfect time to enjoy it. We filled big bowls with different flavours and settled into a day of lazy TV watching and gourmet nibbling. How did you spend your snow day?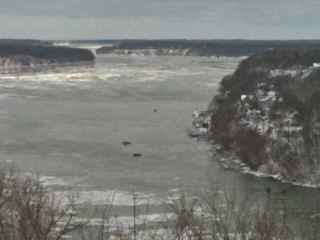 This is Niagara the day after a winter storm. Apparently, not even freezing temperatures and a river full of ice can stop some fishermen!