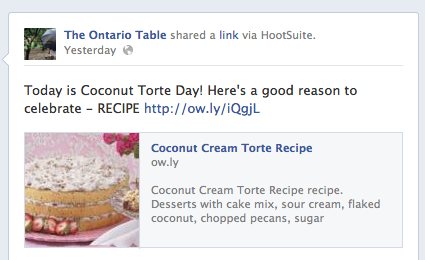 Ok, I got caught. Wouldn't you know it! I decided one day to take a look at all the foods that are honoured with a "National Day". You know, National Hot Dog Day or Maple Syrup Day. All those days that bring our thoughts to one single food. Why? Well, statistics show that we all unconsciously eat the same 10 foods over and over again. I find this a real crime – a national offense of the greatest kind.
National days honouring food is a great way to distract us from routine and expand our culinary thinking. I decided to share these days, on the day and included a seductive picture. Who knows, perhaps it would encourage some to branch out and celebrate – like the day was meant for.
So it was National Coconut Torte Day and in my enthusiasm to promote it, I committed 2 crimes. First, coconut is not a local food, second, the recipe used a commercial vanilla cake mix. Not only did I commit these crimes, but I was called on them! Aughhh!
Ok, I can't dispute either of the charges, but here's the story. First of all, eating coconut, or celebrating National Coconut Torte Day doesn't mean I'm no longer the Ontario Local Food Ambassador or that any crime was committed. Eating local foods is about doing the best you can. I've been called extreme on this issue with good reason, I traditionally buy and eat a whopping 90 to 95% Ontario produce and products. I don't find it difficult to do, I shop daily and at many different shops (and towns) for food. This is simply my lifestyle and I'm able to do it where not many others can.
But I have always said that eating local is not about absolutes, it's about doing the best you can. For example, I love a cup of black tea, a nibble of chocolate and a banana in my kids fruit smoothies. Yes I'm still a locavore because most of my food dollars go to local products. But I'm a food writer – I love all food!
However, charge 2 – ok, I stand guilty!! When I put up my post for National Coconut Torte Day I picked what I thought was the most seductive picture of a coconut torte. I love this picture, it makes me want to do a face plant right in the middle of it! But I neglected to take a look at the recipe – why? The truth is I wouldn't make it – I'm just not a fan of coconut!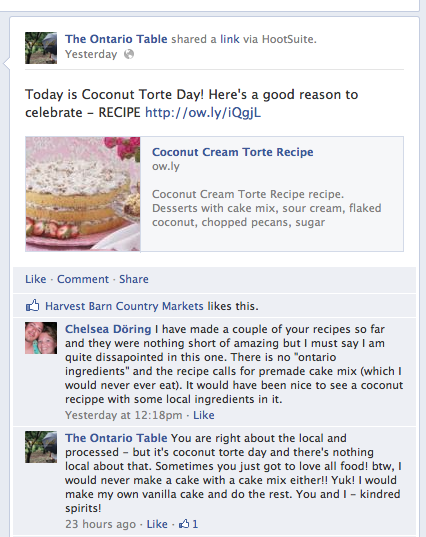 The crime? The recipe used a packaged product – a cheap, store bought cake mix! Chelsea Doring called me on this on my chances to enjoy something so decadent, so you should always insist the quality is the best – we all deserve it!
So Chelsea, I'm sorry. This one is for you – my version of an amazing Coconut Cream Torte!
The Barefoot Contessa's Coconut Cake
I took this from the website listed below. It is the kind of recipe I would make if I liked coconut enough to invest the time, energy and my waistline.
Ingredients
3/4 pound (3 sticks) unsalted butter, at room temperature, plus more for greasing the pans
2 cups sugar
5 extra-large eggs, at room temperature
1 1/2 teaspoons pure vanilla extract
1 1/2 teaspoons pure almond extract
3 cups all-purpose flour, plus more for dusting the pans
1 teaspoon baking powder
1/2 teaspoon baking soda
1/2 teaspoon kosher salt
1 cup milk
4 ounces sweetened shredded coconut
For the frosting:
1 pound cream cheese, at room temperature
1/2 pound (2 sticks) unsalted butter, at room temperature
3/4 teaspoon pure vanilla extract
1/4 teaspoon pure almond extract
1 pound confectioners' sugar, sifted
6 ounces sweetened shredded coconut
Directions
Preheat the oven to 350 degrees F. Grease 2 (9-inch) round cake pans, then line them parchment paper. Grease them again and dust lightly with flour.
In the bowl of an electric mixer fitted with a paddle attachment, cream the butter and sugar on medium-high speed for 3 to 5 minutes, until light yellow and fluffy. Crack the eggs into a small bowl. With the mixer on medium speed, add the eggs 1 at a time, scraping down the bowl once during mixing. Add the vanilla and almond extracts and mix well. The mixture might look curdled; don't be concerned.
In a separate bowl, sift together the flour, baking powder, baking soda and salt. With the mixer on low speed, alternately add the dry ingredients and the milk to the batter in 3 parts, beginning and ending with dry ingredients. Mix until just combined. Fold in the 4 ounces of coconut with a rubber spatula.
Pour the batter evenly into the 2 pans and smooth the top with a knife. Bake in the center of the oven for 45 to 55 minutes, until the tops are browned and a cake tester comes out clean. Cool on a baking rack for 30 minutes, then turn the cakes out onto a baking rack to finish cooling.
For the frosting, in the bowl of an electric mixer fitted with a paddle attachment, combine the cream cheese, butter, vanilla and almond extract on low speed. Add the confectioners' sugar and mix until just smooth (don't whip!)
To assemble, place 1 layer on a flat serving plate, top side down, and spread with frosting. Place the second layer on top, top side up, and frost the top and sides. To decorate the cake, sprinkle the top with coconut and lightly press more coconut onto the sides. Serve at room temperature.
Recipe taken from: http://www.foodnetwork.com/recipes/ina-garten/coconut-cake-recipe/index.html?ic1=obinsite&oc=linkback