Yes, I'm banning apple pie, but only in defence of everything apple. We Ontarians love our apples, maybe because we grow some of the best in the world. And with our ultramodern storage methods, fine-quality apples are now available year-round. But the new crop, jewel-bright and juicy, is especially tempting.
I wish all Ontario fruit would store as well as apples do. Most of Ontario apple growers have cold storage facilities meaning they can supply apples all year round. Martin's Apple Farm in St. Jacobs, Warner's Farm in Beamsville, Chudleigh's in Milton and Birtch Farm in Woodstock are examples of great farms you can visit year round for fresh apples.
When you visit these farms you're likely to find apple cider and apple pies. If you think it's the season for apple pies, you're absolutely right! You can find freshly baked apple pies at many on-farm markets and farmers' markets throughout Ontario in as many different flavour varieties as apples. With farm grown goodness and country baking coming together so brilliantly, why would anyone want to bake their own apple pie? So as much as I love a good slice of warm apple pie with vanilla ice cream melting all over it, I'm banning apple pies from this story. Instead, I'm going to dedicate this story to all things deliciously apple, except our quintessential pie – and there is so much more to apples than pie!
Did you know there are more than 7,500 varieties of apples grown throughout the world? Wow! If you ate a new variety each day, it would take you 20 years to try them all. While that's just the kind of dare I can't refuse, unfortunately all the varieties aren't available in Ontario. So what to do next? Try just one year of cooking with apples.
For anyone who cooks with apples, you will know about the apple trinity of butter, sugar and cinnamon. Melt butter in a skillet, toss the apples in sugar and cinnamon and cook over medium heat. The sugar will caramelize beautifully. The trinity is the religion of apples and is the base of most delicious apple recipes, no matter what time of year.
Like the seasons, the way we approach apples changes from hot weather to cold. I love a grilled brie and apple sandwich in the summer and yet wouldn't think of eating a warm apple dumpling stuffed with mincemeat and topped with a scoop of eggnog ice cream any other time of year except Christmas. Autumn is prime time for cinnamon laced apple crisp while warm apple butternut squash soup takes the chill off a damp spring day.
Raw, sliced, baked, roasted, sautéed, fried, crushed or fresh, apples are one fruit that is not only good for you, but versatile enough for everyone to enjoy at anytime of the year and prepared in literally hundreds of different ways. Simply put, there's no time of day or year apples don't belong.
Autumn: Start with apples sautéed in the trinity and spoon these warm beauties over ice cream, pancakes or smash them into caramel applesauce. Alternatively, you can fill a pan with the cinnamon sugared apples, top with a streusel topping and bake in the oven. This simple dish of home-made love has the ability to become a family tradition. Every fall the farmers' market in St. Thomas offers up donuts stuffed with a thick slice of apple and creamy almond paste. They're deep fried for seductively, roll-your-eyes-back flavour. In the basement of the St. Lawrence Market the Greek vendor cuts uber-thick slices of apples, dips them in batter and deep fries them. Then he heaps spoonfulls of cinnamon sugar over the hot apple fritter – yum! Fall is the time apples can go savouy; dice them into stuffing or partner them with shredded cabbage cooked ever so slowly in a skillet.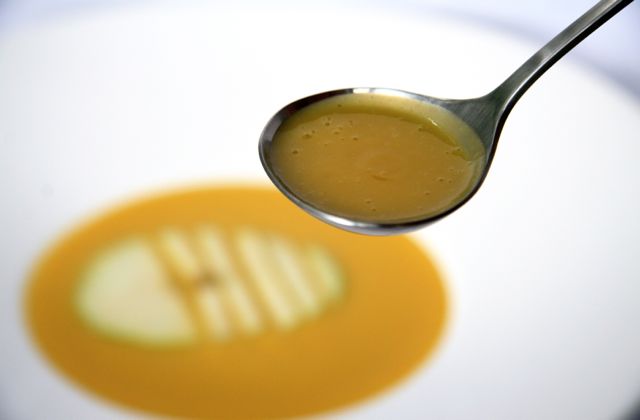 Winter: Cold weather demands that apples be wrapped in buttery pastry. You can peel, core and stuff whole apples with cinnamon, raisins and pecans. Then wrap them in a square of thawed puff pastry. Now bake and cool slightly before serving. You can add ice cream or a buttery dulce de leche sauce to dress up the apple blossom or go ahead – just eat it as is, who can resist! Alternatively, lay warm caramelized apples between two buttery sheets of puff pastry, crimp the edges so the glorious juices don't escape and bake. Now slice and eat – oh, um! It's a cross between a hand pie and a Pop-Tart. Apples dress up well in a baked crème brûlée or flambéed with Pernod in a silky crepe with sweet Chantilly cream. Roast pork tenderloin over a bed of sliced apples or dig into thick pork chops with unsweetened, home-made applesauce on the side.
Spring: Spring showers demand apples be simmered in a pot. Simmering apples fills the kitchen with the magic to warm you from chilly damp weather. Add to the simmering apples a drizzle of hearty stout and roasted garlic, stir in chunks of gouda until melted and fold into mashed potatoes. Add cubes of apples to butternut squash and simmer into a thick, luscious soup with a kiss of maple syrup. Slice apples uber-thin, top with crispy bacon and lots of your favourite cheese and grill into an apple bacon grilled cheese sandwich. Spring is the time for pampering so spoon warm cinnamon apples over thick slices of brioche French toast. If you like your apples peeled, don't throw out the apple skins. Instead, cook them with icewine for a pleasure-giving, pink drizzle to use over vanilla panna cotta or stir into an apple bread pudding. Don't forget the classics like a spring Waldorf salad or add chunks of fresh apple to any salad for that matter.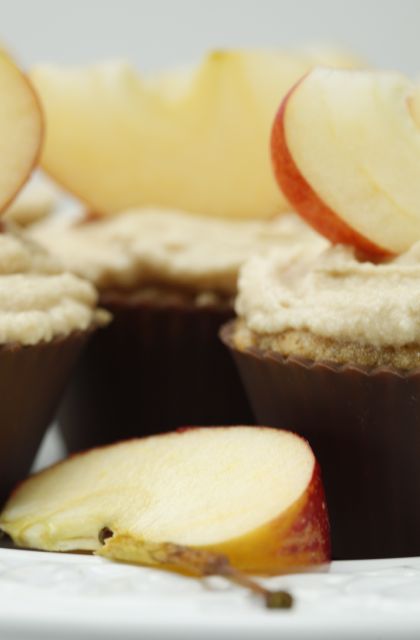 Summer: Summer and county fairs go hand in hand with candy apples and Niagara has their own brand of chocolate candy apples, you'll find Moyer's Candyapples at most grocery stores. The hot weather is the perfect time for Apple Bitch, a chilly apple-cherry cocktail or for a party, make a jug of apple sangria. One of my favourite ice cream flavours is Roasted Apple Pie, simply crumble apple pie into vanilla ice cream and – wow! Spread apple butter on a fresh baguette and make an open-faced apple and prosciutto sandwich or make a warm apple Monte Cristo. Lazy summer brunches go well with apple pancakes or spoon warm cinnamon apples over a puffy German pancake. For the barbecue, brine chicken in apple cider and grill to perfection. Quick and easy make gouda, apple and ham quesadillas or spoon apple salsa over seasoned pork tacos. While there is no dish that isn't made infinitely better with apples, summer is the time to eat a cold, crisp apple right out-of-hand.
For more than 300 seductively delicious apple recipes complete with pictures click here.
This story first appeared in Today Niagara Magazine and TASTE Magazine. (Winter 2014)