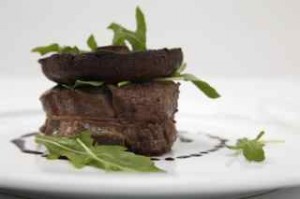 The most frequently asked question I get is what recipes do I have for quick and tasty meals?  The answer always becomes more a discussion on having the right ingredients on hand and enjoying the activity of cooking than it does on specific recipes.
Almost from the time I was born, I was interested in food, cooking and the pure enjoyment of eating with family and friends around the table. I would watch my mother and grandmother freeze, can and preserve the local harvests, bake bread, make pasta and simmer sauces. Even after 22 years as a food writer I still get excited when I come across an exotic food, an unfamiliar dish or a new wine.
The enjoyment of working with good food is paramount to making any recipe work for you. Even when I find myself in the kitchen at 7 or 8 in the evening after a long day of work, tired and hungry, I still can't settle for a bowl of cereal or a can of soup. Because of this, my repertoire of good tasting, quick to prepare meals has grown over the years, but there's more.
You can't cook without a well-stocked pantry. Whatever you stock your pantry with it should all be ingredients that have great taste and good texture. Taste and texture is important because the more flavour you get from one ingredient, the fewer ingredients you'll need. The fewer ingredients you need, the quicker the meal is to prepare and, the quicker the clean up will be. Also, having these items on hand regularly means you won't have to run out when you're preparing a meal.
If you're wondering what to stock your cupboards with, just pick half a dozen quick to prepare recipes like the ones below and make a list of the ingredients. You'd be wise to include cans of beans and chicken broth, bottles of olive oil and vinegar and packages of rice and pasta.  Don't forget cellar items such onions, garlic, carrots and ginger that keep for weeks in a cool storage pantry. The refrigerator and freezer are part of a kitchen pantry as well, so stock them with lemons, Parmesan cheese, bacon, eggs and a variety of your favourite cuts of meat.
Now check your equipment. For meals that take 15 to 20 minutes to prepare you won't need anything fancy. My favourite pan is a large, heavy skillet for sautéing and I couldn't live without a mini chopper to make quick work of mincing garlic and herbs as well as creating sauces and dressings. Next you'll need a good sharp knife and a wooden cutting board.
You can save time by partially cooking potatoes in the microwave before sautéing them in fresh herbs and olive oil. Make enough of this flavoured oil at one time for use throughout the week. Just keep it in a dark cupboard and not in the refrigerator. It's fantastic for adding flavour to vegetables, potatoes, rice, pasta and many meats.
Any good cook knows how to be creative and think beyond a recipe. Instead of always following a specific blueprint for a dish, a good cook will look inside the pantry to create many more dishes by substituting or adding favourite ingredients.
So if you find yourself insanely busy each day and not looking forward to spending hours in the kitchen making the evening meal and even more time afterwards washing a mountain of dishes, try working smarter in the kitchen and being well prepared. Then the next time you find yourself drawn to those tempting looking recipes that only call for only 4 or 5 ingredients, you'll have no problem at all in making them work for you or adding your own flair for absolutely delicious quick and easy dinners.
Scaloppine with White Wine and Lemon
Besides the veal, you should have all the rest of these ingredients in a well-stocked pantry.  You can substitute the veal for turkey cutlet, boneless chicken breast or pork cutlet or add a bit of cream to the sauce for a richer flavour.
4 veal cutlets
2 tablespoons (25 mL) all purpose flour
2 tablespoons (25 mL) olive oil
½ cup (125 mL) dry white wine
salt and freshly cracked black pepper
juice and grated zest of one lemon
1 tablespoon (15 mL) unsalted butter
Flatten the veal cutlets with a meat mallet and coat lightly in flour, shaking off any excess.  Season with salt and pepper.  Heat the olive oil in a frying pan and sear both sides of the veal quickly.  Remove the meat to a platter and keep warm.  Pour the white wine into the pan and boil for 5 minutes.
Add lemon juice and zest to the pan, stir together quickly and add the butter.  Using a whisk, beat the butter into the liquid.  Return the meat to the pan and heat thoroughly.  Serve with fluffy white rice and spoon sauce over both.  Serves 2.
Wine recommendations: This deliciously light dish calls out for a crisp, non-oaked Chardonnay.
Grilled New York Strip with Balsamic Vinegar
The ultimate in simplicity, and quickness.  Partially cook potatoes in the microwave then cut finger thick slices, brush them with garlic and herb olive oil and bake them for 10 minutes on high. Slice some mushrooms and grill them along with the steak for a real savoury touch.
2 New York strip steaks
salt and freshly cracked black pepper
2 – 3 teaspoons (30 – 45 mL) balsamic vinegar
Pre-heat the broiler or outdoor grill. Trim the steaks and arrange them on a rack in a shallow broiling pan or the grill. Sprinkle with salt and black pepper. Grill them on both sides until they are cooked to the desired stage of doneness: 2 minutes per side for rare, 3 to 5 minutes per side for medium rare, 5 to 6 minutes per side for medium and 8 to 10 minutes per side for well done.
Transfer them to a warmed platter and sprinkle all over with balsamic vinegar.  Serve at once with some herb roasted potato slices.  Serves 2.
Wine recommendations:  A beautifully rich Pinot Noir works very well with this meal.