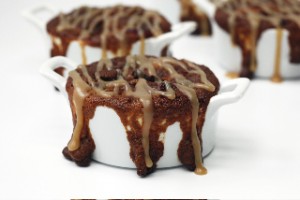 Sticky Apple Toffee Pudding
1 cup (250 mL) Ontario apple cider
1/2 cup (125 mL) dried apples, chopped
2 teaspoons (10 mL) baking soda
3 tablespoons (45 mL) butter, room temperature
1/2 cup (125 mL) sugar
2 eggs
1 1/4 cup (310 mL) all-purpose flour
2 teaspoons (10 mL) baking powder
1 teaspoon (5 mL) ground cinnamon
1/2 teaspoon (5 mL) ground nutmeg
1 1/2 cups (375 mL) Spy apples, peeled and chopped
3/4 cup (180 mL) Ontario Northern pecans, chopped
Toffee Sauce
6 tablespoons (90 mL) butter
1/2 cup (125 mL) brown sugar
1/3 cup (80 mL) whipping cream
1 teaspoon (5 mL) pure vanilla extract
In a saucepan, bring cider and dried apples to a boil. Remove from heat, carefully stir in baking soda. If you do this too quickly, it will foam over the top of the saucepan. Cool about 20 minutes.
Preheat oven to 350F (180C). Meanwhile, beat the butter and sugar until light. Add eggs, one at a time beating well. In a small bowl, whisk flour and spices. Add flour alternately to the butter mixture with cider and dried apples. Add chopped apples and pecans. Pour into a greased 9-inch pan or individual ramekins. Bake for 35 to 40 minutes or until set in the middle.
Melt butter in a saucepan. Add brown sugar and cook until sugar is dissolved. Add whipping cream slowly and simmer until slightly thickened. Remove from heat and stir in vanilla. Serve warm apple pudding drizzled with toffee sauce. Serves 6 to 8.
Gourmet Bacon Burger
1 teaspoon (5 mL) Ontario canola oil
1/2 cup (250 mL) yellow onion, diced
½ cup (125 mL) Ontario Cremini mushrooms, minced
1 cup (250 mL) rich dark Ontario ale
2 tablespoons (30 mL) Dijon-style mustard
2 teaspoons (10 mL) fresh thyme, chopped
1 pound (.45 kg) locally grown ground beef
1 cup (250 mL) breadcrumbs
4 slices, sharp Ontario cheddar cheese
7 strips artisan bacon, cooked
artisan foccacia or hamburger buns
1 tomato, cut into 8 slices
In a saucepan over medium heat, warm the oil. Add the onions and mushrooms and sauté until slightly golden and all the water has evaporated, about 7 to 10 minutes. Add the ale and increase heat to high. Boil the mixture until reduced by two-thirds and becomes syrupy, about 40 minutes. Transfer the mixture to a medium bowl and allow to cool completely.
Heat a gas grill to medium-high or prepare a charcoal fire. Add the mustard and thyme to the mushroom mixture and season well. Add the ground beef and breadcrumbs. Mix well with clean hands and shape into 4 equal patties.
Grill the burgers until well browned on the underside, 4 to 5 minutes. With a spatula, turn the burgers over. Grill 4 to 6 minutes more then top with cheese and allow to partially melt, about 1 minute. Meanwhile, toast the buns at the edge of the grill. Serve burgers on the toasted buns topped with bacon and slices of garden tomatoes. Serves 4.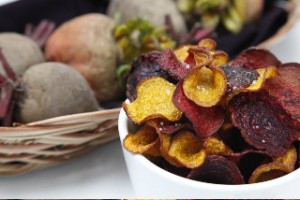 Beet Chips
2 candy cane beets
2 yellow beets
2 tablespoons (30 mL) Ontario canola oil
Ontario salt
Preheat oven to 350F (180C). Peel beets and slice thinly on a mandolin. In a large bowl, toss beets with canola oil and salt.
On two baking sheets lined with parchment paper, arrange beets in a single layer. Bake until edges of beets begin to dry out, about 20 minutes. Rotate baking sheets. Bake 10 to 20 minutes, removing chips as they become lighter in color. Transfer to a wire rack; chips will crisp up as they cool. Serves 4.