Roasted Brie with Orchard Fruit
1 small wheel Ontario Brie-style cheese
1 very ripe Bosc pear, cored and diced
1/2 cup (125 mL) Ontario pecan pieces
2 tablespoon (30 mL) Ontario maple syrup
2 tablespoons (30 mL) Ontario balsamic vinegar
crackers or sliced baguette for serving
In bowl, combine pears, toasted pecans, brown sugar and Ice Syrup.
Preheat oven to 350F (180C). Place cheeses on a rimmed baking sheet. Slice the top rind off and discard. Slice the cheese in half horizontally and remove top half. Place the pears and pecans in a bowl and mix together with maple syrup. Tuck half of the mixture neatly on top of the cheese
and place the top layer of cheese over the pear mixture, pressing gently. Place the remaining pear mixture on top of the cheese. Bake until softened, about 15 to 20 minutes. Remove from oven and transfer to a serving plate. Drizzle with balsamic and serve with crackers or baguette.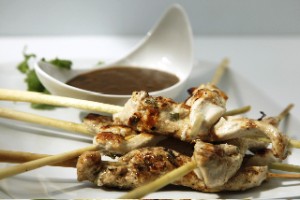 Lemongrass Chicken Skewers
2 cloves garlic, minced
3 tablespoons (45 mL) Ontario canola oil
1/2 cup (125 mL) Ontario maple syrup
2 teaspoons (10 mL) Ontario soy sauce
1 teaspoon (5 mL) dry mustard
2 teaspoons (10 mL) Niagara verjus (or lemon juice)
4 boneless, skinless chicken breasts
12 Niagara lemongrass stalks
Ontario salt
Add the garlic, oil, syrup, soy, mustard and verjus in a bowl. Season and whisk to combine. Pound each chicken breast to an even thickness. Cut each one lengthwise into 3 strips and let marinate in the maple syrup marinade for 3 or 4 hours in the refrigerator. Remove the outer leaves of each stalk of lemongrass and cut the thinner end at an angle to make lemongrass skewers. Place in a tray of water to soak and set aside.
When the chicken has marinated, thread it onto the wet lemongrass skewers and grill over direct medium-high heat for 2 to 3 minutes per side, or until cooked through. Serves 4 to 6.
See page 299 of The Ontario Table for information on verjus.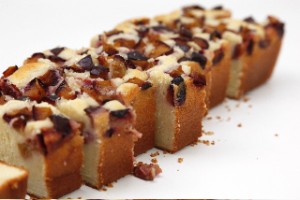 Black Plum Yogurt Loaf
2 tablespoon (30 mL) cabernet ice syrup (or honey)
1 1/2 cups (375 mL) black plums, pitted and diced
6 tablespoons (90 mL) butter, room temperature
3/4 cup (180 mL) sugar
3 eggs
1 1/2 cup (375 mL) all purpose flour
2 teaspoons (10 mL) baking powder
3/4 cup (180 mL) plain Ontario yogurt
Preheat oven to 350F (180C). In a medium bowl, pour the ice syrup over the plums. Mix well and set aside to marinate. In an electric mixer, cream the butter and sugar for about 2 minutes on medium speed. Add the eggs one at a time, incorporating well after each one. In a separate bowl, whisk the flour and baking powder together and add to the butter mixture alternately with the yogurt until both are incorporated; careful not to over mix.
Meanwhile, drain the plums and discard the liquid. Pour the batter into a loaf pan and smooth the top. Press the plums into the batter and bake for 55 to 60 minutes or until golden brown and a toothpick inserted in the center comes out clean. Serve hot or cold as desire.
See page 299 of The Ontario Table for information on ice syrup.