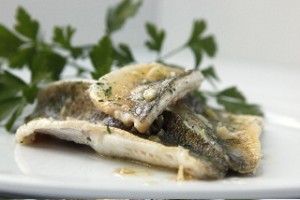 Chardonnay Buttered Yellow Perch
4 yellow perch fillets
2 tablespoons (30 mL) butter
2 garlic cloves, minced
½ cup (125 mL) chardonnay or dry white Ontario wine
1 teaspoon (5 mL) fresh parsley, minced
2 tablespoons (30 mL) butter
Ontario salt
Season the perch. Melt the butter in a skillet and sauté the garlic for 2 minutes on medium heat. Add the wine and bring liquid to a boil. Reduce by half. Add the perch and cook until fish is cooked through, about 5 minutes. Sprinkle with parsley and cook for another minute. Remove perch to a warm platter and add butter to the skillet. Cook over medium heat, stirring as the butter melts. Cook for another minute or until sauce is glossy. Serve warm perch drizzled with chardonnay butter. Serves 4.
Leeks and Mushrooms with Pancetta
2 tablespoons (30 mL) Ontario canola oil
3 slices pancetta, cut into thin strips
1 pounds (.45 kg) white button mushrooms, washed and cut in half
1 leek, thinly sliced leek, white and pale green parts only
1 teaspoon (5 mL) fresh thyme leaves
Ontario salt
Heat the oil in a skillet over medium-low heat and cook the pancetta until the pancetta is almost crisp, about 5 minutes. Remove from the skillet and add the mushrooms. Cook until the mushrooms have released their water and it has all but evaporated. Add leeks and thyme, return the pancetta to the skillet and sauté until leeks soft, about 2 minutes. Season well. Serves 4 to 6.
Pumpkin Streusel Muffins
1/2 cup (125 mL) sugar pumpkin puree
1/2 cup (125 mL) whole milk
1/3 cup (80 mL) Ontario vegetable oil
1/2 cup (125 mL) sugar
1 egg, beaten
1 3/4 cups (430 mL) all purpose flour
2 teaspoons (10 L) baking powder
1/2 teaspoon (2.5 mL) Ontario salt
1 teaspoon (5 mL) cinnamon
1/4 cup (60 mL) brown sugar
1/2 teaspoon (2.5 mL) cinnamon
2 tablespoons (30 mL) butter
1/3 cup (80 mL) Ontario walnuts, chopped
Pre-heat oven to 400F (200C). In a bowl of an electric mixer, combine pumpkin, milk, oil, sugar and egg. Mix on medium until well blended. In another bowl, whisk together the flour, baking powder, salt and cinnamon. Mix until batter is still a little lumpy.
Grease a 12-muffin tin. Pour batter into muffin cups to about 3/4 full. Combine brown sugar, cinnamon, butter and walnuts. Work the mixture until it resembles crumbs. Sprinkle streusel topping over muffins. Bake for 18 to 22 minutes, until golden brown. Makes 12 muffins.