The softly lit room is relaxing even with the dozens of waiters running around, busy with their activity. One comes over and I'm asked if there are any preferences or allergies. While I don't eat wheat or dairy, I say nothing. One of my biggest concerns in restaurant eating today is peoples expectation to opt out of ingredients in a chefs dish, "could I have the cassoulet without duck please?" Aughhh. If we restrict a chef, any good chef, from creating something really delicious then why are we eating out? If not to taste a chef's food, why are we there? If I'm at a restaurant because I've heard great things, then I let them prepare great things for me. I would never ask for substitutions or omissions because by doing this, I would be demeaning the position of the chef.
If I told the chef what he could or could not put in his dishes, then why even have a trained chef in the kitchen? What is the benefit of the culmination of a chefs experience and expertise if not to dazzle me with his culinary talents? If people insist on this behavior, beware, because the food may be devoid of anything you'd get excited about. Also beware, this kind of optional-ingredient dining threatens the very profession of chef.
So the seven course tasting begins. The waiter places a large bowl in front of me. In the centre is a white food the size of a poached egg, but looking more like a steamed meringue. In any event it's a delicious looking cloud speckled with miniscule red and black garnish. The waiter described the dish as tomatoes and sweet green peas. I had him describe it a second time as I couldn't wrap my mind around what my eyes were feasting on and what my brain was digesting – total disconnect. That's when I remembered to trust. I eat the first spoonful of this white cloud and felt it dissipate on my palate, I tried desperately to feel its texture but it was elusive, mysterious. Then without warning my mouth was full of the most intense flavour of summer ripe tomatoes, dripping in their sweet juices and brightened with a few grains of sea salt. I looked down at the white cloud on my plate, it was pure magic. Laprise had done it with one spoonful, I was weak at the knees and a slave to more of Laprises food.
The next course was scallops with daikon radish, lime, green onion oil and a seaweed foam. The Third course was calamari with marinated cucumber, watermelon reduction and coriander. When I go up to use the restroom, I returned to find my napkin perfectly folded at my seat. Last time this happened was when Jon and I dined at Maze, Gordon Ramsey's restaurant and NOPI, Yotam Ottolenghi's restaurant, both in London. First class restaurants these are.
The courses were coming slow and steady, plenty of time to sip on our wines – a different one for each course – of course! Fourth course was pan seared Quebec Foie Gras with brioche and peach compote. Fifth course was lamb with an eggplant puree, tomatoes, chanterelles and marinated zucchini. Sixth course was duck with cherry sauce, red beets, green beans and trumpets of death. Before the seventh course came out, our waiter asked us if we wanted a pre-dessert. Pre-dessert? Wow, a dessert to set the palate for the dessert! What an amazing concept! The predessert was a juniper and white chocolate mousse, black currant leaf granite and pink peppercorn meringue. The seventh and the dessert course was a Manjari chocolate cake with cream cheese pepper dunes, berries of the forest sorbet and raspberry compote.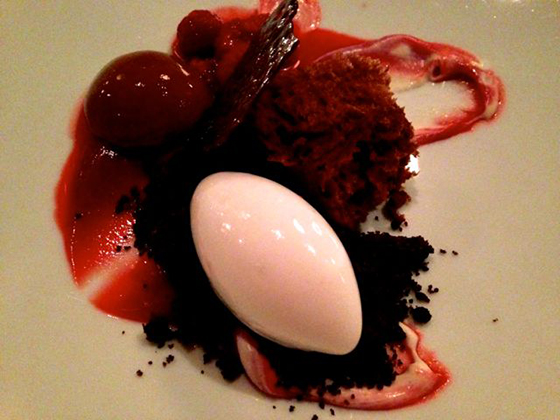 Not even the bill dampened any of the ecstasy we felt as we floated out the door, our feet never touching the ground after the first bite. Jon and I got back to the hotel, our room had been turned down and the music playing was Eddie Money, "I've got two tickets to paradise, pack your bags and we'll leave tonight."
Toque 
Grand Chef Normand Laprise
900 Place Jean-Paul-Riopelle, Montréal, QC H2Z 2B2
(514) 499-2084
Dinner for two with wine: Expect $500.
Bargain!