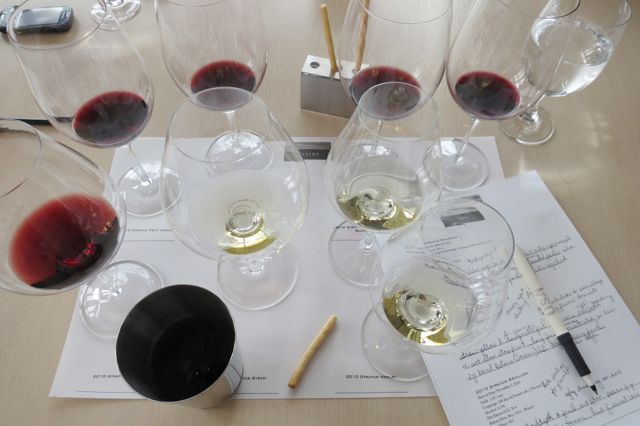 One would think that there isn't much happening in Niagara on a dull, cool, March, Wednesday afternoon, and they may be right. Except at Stratus Vineyards on Niagara Stone Road in Niagara-on-the-Lake they're changing up the tired old winter blues with a magnificent wine tasting.
It was a private affair, 4 wine writers, Suzanne Janke, Director of Hospitality for Stratus and Retail and JL Groux, Stratus Winemaker.
Many of you know Stratus as the best in assemblage wines. JL Groux is a master at blending, but today was different. Today was a tasting of some very rare, limited edition and untraditional varietals. Some are available, some will be available soon, but for today, they were the bright, warm sunshine that everyone was looking for.
Here's the line-up with my tasting notes and release dates so you too can get a taste of these exquisite wines. (All releases at the winery unless otherwise noted.)
2010 Stratus Gamay, $29
Release date: March 21, 2013
The best value in a wine so far this year! How can I say that at $29 a bottle? Well, just taste it and you'll see for yourself that this Gamay is freakin, big, bold and utterly sexy!! Throw away your old image of weak, winey Gamays, this takes Gamay to incredible heights. The concentrated jammy, raiseny nose doesn't disappoint. In fact, you don't even notice the 14.9% alcohol under the wack of macerated smoky Italian plums that slide silkily across the palate. On its path it brings complex flavours of dried sausages, warm Chi spices, toasted rye and smoked game. It's a giant of a wine that finishes long and fruity. A definite OMGotta have it wine!
2010 Stratus Syrah, $48
Release date: February 2013
Low yields in the vineyards and pruning the cluster ears means only the best goes into this super big Syrah. The colour is a thick sexy deep black cherry with youthful clear edges. Real personality sings through on the game, foie gras and leather notes accented by stewed cherry aromas. Add smoke and black peppercorns to the complex blend. Medium to full bodied with massively refine tannins. Long, clean and delicious finish. A complete package of complexity and personality.
2010 Stratus Merlot, $32
Release date: May 2013
Like a fine lady with dark plum, mint and milk chocolate flavours that swirl through the bacon and leather notes. A harmonious extraordinary supple frame on this medium body wine with silky tannins. It's incredibly pleasing from start to finish. Great wine!
2010 Stratus Malbec, $48
Release date: June 2013
The second surprise of the tasting. JL Groux has whipped this lesser known variety into a seductively, delicious wine. An inky red wine, full-bodied and ripe but clean and silky, with the muscle structure of an athlete giving shape and contour to each aroma from blackberry to spice, game, smoke, mocha, green tobacco and some grilled meat along the way. In short – a complex genius with the ability to seduce!
2010 Stratus Petit Verdot, $38
Release date: August 2013
Traditionally a blending wine, JL has once again worked his magic in the vineyard with this most food friendly wine of the tasting. Bright acidity tames the front of this wine but lets the flavours burst out at mid-palate. A bit of licorice, bitter sweet chocolate and boysenberry over muscular yet graceful tannins.
2010 Stratus Chardonnay, $55
Release date: July 2013
I could smell this wine all day long – huge nose of luscious, ripe and generous tropical fruit layered with toasted notes of just baked bread. On the palate the wine expands with mineral and spice flavours wrapped around stewed apricot, nectarine and ripe pear flavours. Finishes with a nice lively dance of citrus and melon. This chardonnay has intensity and flair without the heavy weight of other chardonnays.
2010 Stratus Sauvignon Blanc, $29
Release date: June 2013
Starts with an unassuming straw colour and builds into big honeysuckle, apple and straw aromas. Rich and distinctive, a juicy wine with intense herb-scented gooseberry and stone fruit that keep pumping through to the lingering finish. Beautifully feminine and powerfully flavourful.
2010 Stratus Semillon, $32
Release date: May 2013
Wet stone nose with spicy pears and figs lead to a palate pleasing vanilla, honey, yeast, dough and butter flavours that turn sexy on a rich finish. Did I detect a bit of pie crust character going on here? I'll have to taste again to make sure!
Lunch Tasting
Chef + Sommelier Ryan Crawford presented a stunning lunch that showcased the wines brilliantly.
First Course
BISQUE. Sweet potato and sustainable prawn bisque with crème fraîche
Paired with…
2011 Stratus Gewurztraminer, $29.95
Release date: March 2013 (Vintages)
Beautiful expression of the varietal. Elegant, rich and opulence, boasting litchi, grapefruit and apricot notes married to a sumptuous framework that also provides great structure. A lingering aftertaste of hazelnuts and honey.
Second Course
HAM: smoked ham hock ragu, peasse porridge ravioli, baby cabbage, sage purée and fried dough
Paired with…
2009 Stratus Cabernet Franc, $38
Release date: June 2013
Serves up lots of appealing currant, spice, cedar and mocha flavours on the nicely structured body. Finishing with complexity.
Sweet Course
PEAR: caramel poached pear, white chocolate "snow", dulce de leche, thirty second brioche
Paired with…
2010 Stratus Mosiac, $25/375 mL
Release date: April 2013
Not too sweet, more elegant, rich and refreshing with ripe apricot, nectarine, honeycomb ad anise flavours that are focused and lively.