It's a long weekend and it's Food Day Canada. Just outside Sarnia in the small neighbourhood of Courtright, farmers bring their food for a Food Day Canada farm dinner. It becomes a different kind of menu, one that centres around the food, its origins and its preparation. There is as much time and attention spent on the raising of animals and the butchered meat; the planting, nurturing and harvesting of produce, as there is time and attention paid to the preparation of the best food of the county into a delicious, memorable meal.
The site is the Smith Homestead Farm; this organic vegetable farm is picture perfect. A white tent is set up on the perfectly manicured lawn behind the retail barn and next to the labyrinth garden. The meal will be unlike any other strategically thought out dinner. Unlike the traditional 3 courses of appetizer, entre and dessert, this farm meal will be a collection of farmers, their food and whatever comes out of the kitchen first.
It starts with a cold beet salad tossed with beet greens and goes into pork, chicken, lamb, beef, then another salad of crisp, sturdy, bitter greens, the flavours are strong and excitingly refreshing. The dinner goes on with roasted garden vegetables, tomato sautéed chicken and pork. When you don't think you can eat any more, a line of half a dozen people emerge from the retail barn each holding a pie in each hand. We end a feast of peach and cherry pies.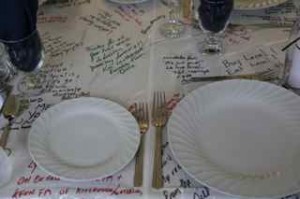 So what was everyone eating on? The Ontario Table brought the longest tablecloth in the world dedicated to Ontario local food. Each tablecloth, when joined end to end is over 150-feet long and on it is hundreds of dedications to farmers, home grown food and The Ontario Table. It was the perfect backdrop to a farm feast!
A true farm dinner is an appreciation to how our food is conceived, not procured; good soil, good climate and good weather. Like a generous act of Mother Nature, the evening ended with a rain shower that had everyone running, laughing to their cars.
Here's the menu, the farmers and the amazing chef who brought them all together, Dave Duguay of Blackwater Coffee.
Smith Farms Organic Beet Salad
Forest Glen Herb Farm Mesclun with Garlic Herb Butter
Roasted Smith Farm Vegetables with Twin Bridge Lemon Honey
Swiss Chard and Feta Quiche with Noppen's Eggs
Gwen's Garden Produce Beans
Purdy's Fish Cakes
Bluewater Beef Roasted with Blackwater Coffee Herb Rub
Sara's Natural Side Ribs, Glazed with 5 Spice & Williamson Farms' Maple Syrup
Vrolyk Farms Tomato Braised Chicken
Lena's Roast Leg of Lamb with Peach and Mint chutney
Roasted Franz Turkey Breast Ballotine with Roasted Garlic Jus
Francy Tarts' Peach Pie and Cherry Pie
Twin Pines Orchard and Cider House Cider
Munro Honey and Meadery Tastings
Take a look at some amazing pics of what you missed! Don't miss Food Day Canada next year.