The Tuscan countryside can't hold a candle to the beauty of the Umbrian hills with their checkerboard wheat fields dotted with tightly wound bales of hay, the polka dot olive groves, corduroy vineyards and vast expanses of natural forest – this is where they hunt for their prized black truffles.
Perched on top of one of the highest mountaintops in Umbria was a great fortress, dominant and all powerful. Today, the ancient walled village of Orvieto is romantic and charming with a great imposing white mosaic church  that centres the village and its now the cuisine that is all dominant and powerful.
Most of the restaurants throughout this ancient village boast a kitchen of 'typical cuisine of the region'. Just walk up Via Corso Cavour, the main street into the village and there are many shops where you can buy the typical products of Umbria; black truffles, prosciutto, pasta and artisan olive oil. The road leads to the centre of town and Piazza della Republica. Make a left here and in a little side alley is Trattoria Palomba. The sign reads, "trattoria tipica la palomba" and it's a Slow Food recognized restaurant. In this simple little restaurant with brown paneled walls and wooden cane chairs, Cinti Giaphiero promotes all of the regional products.
The menu that Cinti and Chef Alberto Sorti offer is laced with truffles. You'll find them on steaks, on pasta, in omelets and on bruschetta. In fact, almost every second dish on the menu incorporates truffles in some way. Giaphiero takes a break from his busy restaurant to eat a large dish of bacon and egg pasta and his staff grate black truffle overtop (my guess is that the pasta is Carbonara). He enjoys it robustly and I want a taste so badly.
The Insalata Verde o Mista (mixed green salad) in impeccably fresh like it was just picked from a backyard garden and we feast on a selection of regional  sheep milk cheeses and wild boar charcuterie, it's a house specialty. There is prosciutto, bresaola and sausage made from wild boar from the surrounding hills and a selection of some soft, firm and aged Pecorino cheeses.
Bocconcini di Cinghiale alla Palomba (wild boar stew with tomatoes and red peppers) is placed in front of us and Cinti brings over a giant bowl of huge knarly, black truffles the size of apples. He shaves them overtop and the warm stew brings out the aromas and flavours of the truffles – the dish is amazing!
Parking in Orvieto is a matter of knowing your colours. Find a parking space with white lines and it's free; blue lines are metered parking spots where you have to pay and yellow are handicapped spots. There are a few parking lots around the village of about 20,000 residents and it's not that difficult to find a spot and park for days – for free!
Just down from Via Corso Cavour on Via Duomo is Piazza Gualterio and in the centre is a fantastic restaurant with no name. It's here two brothers, Luciano and Giovanni Melia run a fantastic, small farm to table restaurant they call Nonna Melia, after their grandmother. We ordered a pizza and waitress Yo Gentilini refuses, explaining the farmer hasn't delivered the arugula yet. "He hasn't picked it yet", she explains asking us to order a different one. The pizza is made in a wood burning, stone pizza oven in the back. The pizza is paper thin, the crust like a fine biscuit and just enough toppings to bring the flavours all together. Fine Italian pizza doesn't get any better than this.
Everywhere we go, Jon and I take pictures of our food and yes, this usually attracts attention. Yo is a food photographer as well and starts to bring out more food and props. She hands us the fine, family crystal and to put in it, a bottle of Falseco 2007 Passiro (dessert wine). We have fun taking pictures, then begin to eat and drink some more. The Tiramisu with the espresso soaked lady fingers, homemade cream and bitter chocolate went perfectly well with the sweet white wine. It's a house specialty and Yo is right, I've never tasted Tiramisu so fine, so light and so pleasing to the palate.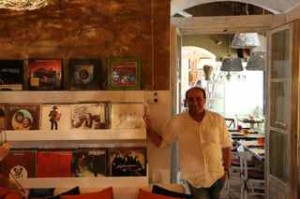 The little restaurant with a few tables that spill into the piazza goes far into the ancient building. Four more rooms, all decorated in white, soft furnishings and décor give it an inviting, special feeling. On the walls are special white, wooden display racks that hold Govanni's album collection. There are well over 5,000 records, all categorized. When he finds out we're from Canada he ushers us into the back room where 3 record players line a long table. He pulls out old albums from the Cowboy Junkies, Bruce Cockburn, Jonie Mitchel, Willie Bennet, Valdy Hot Rocks, David Wiffen and Murray Mclaughlan. They line the back of a plush ivory sofa and he picks one to play for us.
It's here where we watched our first soccer game where Italy played England. In the piazza there were 3 large tv screens set up. Inside Nona Melia there were another 2 large screens and projectors. There were no doors to separate the restaurant from the piazza and we were one large party. We drank wine and cheered Italy on together. When Italy won, the cheers, songs, dancing and running through the streets, waving flags carried on for hours.
During the hot days, tourists walked the streets eating intensely flavoured gelato in the hopes of cooling off. But there is no escaping the intense heat and if you know the area, you'll know there is something better. You can buy wild boar prosciutto from many of the food shops throughout the village and for half the price of a gelato, you can walk around munching on the super dark prosciutto that has been aged for a full 2 years and is ultra meaty.
Orvieto is famous for it's underground caves. First built as a water system, then during World War II the underground was used as hiding places from their attackers. Today one of those caves houses one of Italy's finest restaurants. Le Grotte del Funaro is located at the far end of Orvieto, up against the west wall. Enter from street level and immediately descend a long staircase. In front of you is a marble slab where Chef Edgardo Borreto makes his pasta; gnocchi, Raviolini and Ombrichelli.
Inside the restaurant are many small rooms dug into the earth. There is only one window that lets in the light so the mood is cool, relaxing and romantic. Because Orvieto is built on top of a mountain, the window is high above the rolling countryside and the view is stunning.
The house bruschetta is wafer thin bread baked with extra virgin olive oil and sea salt and tastes divine. The carpaccio was like velvet flowing down your throat with thick shavings of parmigiano and enrobed with peppery extra virgin olive oil. The Ombrechelli (thick, round pasta noodles) with black Orvieto truffles is light, rich and robust with truffle flavour. The dish is pure magic as the thick noodles disappear in your mouth then waves of pure black truffle stretch to awaken and pleasure every part of your body – it's incredible! (This dish should come with a room!)
Our last dish was the Suckling Pig. Here their prized pork is wrapped with pig skin and roasted until crispy. The skin marinates the meat so it's juicy and fork tender and it's dressed with a delicate sauce that turns the crispy skin soft and chewy like eating a caramel candy and having it stick between your teeth. The accompanying potatoes were perfect; creamy, buttery insides, a golden, caramelized ridges outside.
The meal is cut short because of a second soccer game. Italy plays Germany and already there are cheers. We leave the hedonic pleasures of Le Grotte del Funaro and head back to Nona Melia to watch the game. When Italy won, the crowd went wild with chanting, jumping, running, screaming, horns honking and flag waving – heck, they even wore their flag! Everyone congregated in the large Piazza Duomo where the real party making went on until after midnight.
Interestingly, there was not one policeman to be found during this huge upheaval. I think it's because no one got out of hand, there was no destruction and no disrespect. Instead, children ran around every bit a part of the merriment as the elderly who sat in outdoor restaurants and watched as the youth took to the streets for a crazy, loud party. It was a true celebration.
Orvieto is big on hospitality, it's pride for the foods found in the Umbrian hills is admirable and its ability to create exquisite dishes in postage stamp sized kitchens is sheer mind boggling.